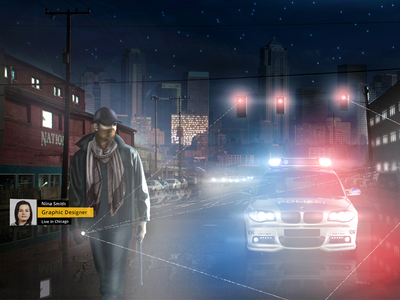 Ubisoft revealed, in an interview with IGN, that the engine for Watch Dogs was originally intended for a driving game, specifically a new title in the Driver series. Ubisoft North American president Laurent Detoc explained that the development working on the game realized that a new open-world title would be a better fit than a driving game.
"Watch Dogs wasn't started as Watch Dogs," Detoc told IGN. "They were working on a driving engine, working on something. We had the Driver license. This was years ago. Then we were thinking, 'no, this is not the way we want to go with a driving game,' so we cancelled that and restarted. It's not like Watch Dogs started as Watch Dogs. The Watch Dogs project was initially another game. At some point it changed. That's at least three years ago, and then the Watch Dogs project reused some of the work that had been done on this driving engine."
Detoc however stressed that Driver did not simply become Watch Dogs. The team thought carefully about the circumstances surrounding the company and the titles being developed. The development team realized that a driving game was already being made by a different studio at the time, which became known as The Crew, so the final decision was made to reshuffle things and hire a new creative director.
"It's not that Driver became Watch Dogs, so much as the driving game we made was a driving game," Detoc elaborated. "The decision was made that there was another driving game being made and this one should be an open-world game where the guy comes out of the car and does other things. Then the team decides to reshuffle itself entirely. A few other people come in, a new creative director, and then they start a new game. I wouldn't say that Driver became Watch Dogs, because that's not true. That's not really what happens. What happens is that a game gets cancelled, and then you take pieces of that game to make a new one. We could have had another driving engine from another team in another place, and then it would have been used by the Watch Dogs team."
Detoc also spoke to IGN concerning the delays involved with Watch Dogs and South Park: The Stick of Truth.