If you've been looking for a fun way to pass the time that allows you to also utilize some of your creativity, look no further than the fourth version of a great game, Duck Life 4. This game provides quality entertainment, satisfies your creative needs, and provides a funny storyline to explain the game. Through this article, we'll walk you through everything we love about the game and hopefully convince you to give a shot, too. So, buckle up and let's get started.
It offers a funny and interesting storyline
When you go to play the game, it starts with a fun back story to explain why exactly the world of the game is the way it is. In the opening sequence, you learn that the game takes place in a world where there are genetically modified ducks and that they have been banned for a year. You also learn that there's one duck in particular trying to take over the world that you have to defeat. In order to defeat it, you must train each duck you have to be the best at certain skills. Quite an elaborate storyline for a free online game, isn't it? While this doesn't affect overall gameplay much, it's a nice touch that shows how much care the game creators took in its creation.
It allows you to express your creativity
In addition to having this fun storyline, the game offers a creative aspect as well. You get to design your own ducks throughout the game. You have a small selection of options to start with, but once you get into the game and buy your first duck, the options open right up; there are more eyes to choose from, you can even change the color of their eyes, and you have more color options for the ducks themselves. You also get to name each duck you own whatever you want. The creative options in this game are a nice added feature that allows it to ahead of the competition.
There's freedom to this game
Unlike a lot of the other free games you find here, this game offers a lot of freedom for the player. When you get to the farm, which is the screen after they tell you how to get energy, the trainer walks you through the basics quickly and then you're on your own, making gameplay much more interesting. You can train each of your ducks, buy more ducks, earn money through competitions, and even buy funny extras for your ducks, like hats. The best part is, you'd think a game with so much freedom would be complicated, but it is so simple that anyone could figure out how to play it and have fun.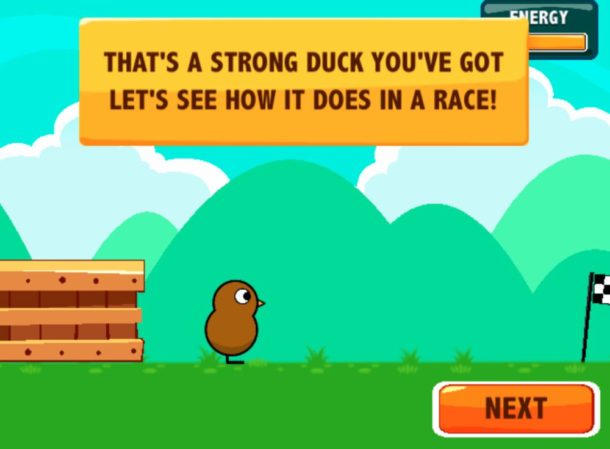 What's different about this Duck Life game
Duck Life 4 is, obviously, the fourth installment of the game. If you're a fan of the Duck Life games already, you'll be excited to know that there's now more to do on the farm. Unfortunately, you can't train in all the skills at one time anymore, but that's just a minor inconvenience. You can also have more than just one duck now, but you need to remember to level up their skills by completing training activities with each duck so you can compete in a tournament. If you haven't played any Duck Life game before this one, you're in for a treat. This game is incredibly entertaining and unique.
If you've been trying to find an entertaining game to play for free online, check out Duck Life 4. This game offers excellent gameplay, a unique storyline, and is just an all around fun game. When you play it for free on Poki, you can even watch a play through demonstration first, so you know what you're doing. You won't regret giving this fun and simple game a try.