If you're super addicted, like the rest of the world, to Candy Crush Saga, then you probably are wondering how to keep playing the game while you wait for that extra life. And since you probably have already created three more Facebook accounts just to play the game, it's time to go for some games like Candy Crush Saga that will keep you busy.
We have here a list of the best offline games like Candy Crush Saga that can be played on your computer. The good thing is that in the case of these games you won't have to wait for life refills or help from friends, and you can play continuously. I am sure that sounds nice and it also matters a lot that we have some really top notch match three games here, so let's check them out below: the best games like Candy Crush Saga!
The Snow
Match tokens to break a curse that has cast a frozen pall over a once warm and lush land! With each step of your journey, you'll gain access to new game modes and bonuses and earn achievements for a job well done! With beautiful hand-drawn graphics, simple point-and-click controls, and special logic levels, The Snow will warm your heart for hours on end! Check out the game at Big Fish Games.
Imperial Island: Birth of an Empire
Help Emperor Omadan rebuild a prosperous empire in Imperial Island: Birth of an Empire! The wise Emperor Omadan once ruled over a great empire. The territory flourished, bringing joy to its people and arousing envy in Omadan's enemies. After many years of prosperity, the enemies of his great empire launched a relentless invasion. To avoid the destruction of his people, the Emperor made a difficult but wise decision. He fled along with all of the survivors to seek a land where his empire could begin anew. Help Emperor Omadan on his quest to reconstruct his lost empire. Click here to download the game.
Bejeweled 3
The biggest, brightest Bejeweled ever! Discover all-new ways to play the worlds #1 puzzle game. Find your perfect match with 8 breathtaking game modes that meet all your moods ease into Classic Bejeweled for cascades of fun, journey through 40 challenging Quest puzzles, charge into the electrifying Lightning for non-stop action, and tailor your experience in Zen for a revolutionary new way to relax. You can download the latest entry in the popular franchise here.
Age of Emerald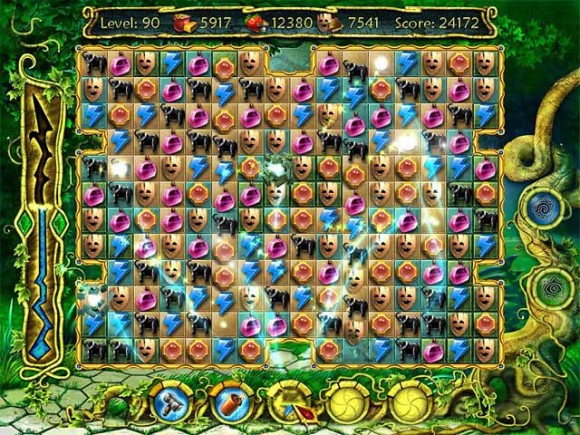 Help the four magicians by using your skills to build the most splendid city in the entire world. Match building materials, splendid food, gold, and magical artifacts! Build a marvelous city for the King and host the King`s birthday party. With over 200 levels and 30 buildings to build, Age of Emerald has something for everybody! Collect over 30 different resources and use 5 magical bonuses to build your grand city! Take on the challenge here.
4 Elements II
Misfortune has befallen the magic kingdom again! A careless charm made the formerly wondrous ancient world overcast, beset with darkness and despair. Four fairies of the elements were deprived of their magic power. Be the hero the kingdom seeks: set the fairies of earth, air, fire and water free, and restore the book of magic in the sequel to the renowned puzzle game! Check it out here.
Jewel Legends: Magical Kingdom
The people of the Magical Kingdom once lived in contentment and prosperity, until the army of the Black Sorcerer took everything from them and destroyed the kingdom. The Black Sorcerer has been defeated, but everything lies in ashes. Now it is your task to rebuild the Magical Kingdom and restore its former glory! Collect precious jewels by forming rows of 3 or more jems, construct the Magnificent Castle and be the Magical Kingdom's savior! Download the game from Big Fish Games.
Alchemist's Apprentice
Become The Alchemist's Apprentice in this exciting Hidden Object and Match 3 game! During your tenure at the High School of Magical Arts, your uncle Milton Klarfell, the governor of a province, writes to let you know that he is hot on the trail of the legendary Philosopher's Stone. As he travels around the globe it is up to you to bring his land back to its former glory using his incredible Alchemy machine. Click here to check out the game.
Tibet Quest
Jane`s father spent his life searching for city of Shangri La. On his final expedition he disappeared, leaving behind an unsolved mystery. Now, following the clues in her father`s journal, Jane travels to Tibet in search of answers. Guide Jane`s journey, carving her path through the treacherous mountain landscape with fast-paced Match 3 action and puzzle solving. Unlock power-up tools to overcome obstacles and build a hot air balloon, then finish the search for the fabled Shangri La. Check out the game here.
Around the World in 80 Days
You only have 80 days to circumnavigate the globe. Think that sounds easy? Travel back in time to the late 19th century and get ready for spectacular adventures on land, sea and air together with the English daredevil Phileas Fogg and his loyal French servant Passepourtout. Use the unique chance to visit four continents and complete the inconceivable journey in this outstanding puzzler based on the classic adventure novel by Jules Verne. Big Fish Games is the place where you can check this game out.
Unwell Mel
The doctor is in, with this madcap Match 3 game! Poor Mel has every ailment in the book, and you`re the only one who can cure him. Use your scanner to figure out what's got him this time, whether it`s too much junk food, or some zany virus, and get to work. Make matching sets of medicines to dispel Mel`s blues and bring him back to good health. Buy special remedies, like Big Fish Oil to aid your efforts. Help Mel get well now by downloading the game here.
Here you have them! 10 games like Candy Crush Saga that you can play offline on your computer or laptop. Have fun and let us know which of these great titles is your favorite!