July was a pretty dry month in terms of great game releases with only a few truly notable games launched during this time. But fortunately we can cover all the genres in our list today where we're sharing the best casual games of August 2018.
These are all games actually released in July and considered must play for all casual game fans. All these games are launched on Big Fish Games and they are the best of the best.
With new entries is well known and appreciated series' like Dark Romance, Whispered Secrets, Grim Tales or the long running Moai series, you know you're up for a treat. So let's not waste any time and instead let's check out below the best casual games to play in August 2018!
Heart of Moon: The Mask of Seasons
Clara and her adoptive father have discovered the location of an ancient artifact called the Mask of Seasons hidden in a temple on an island in the middle of the Pacific. Legend tells that this Mask is responsible for the extreme weather conditions there. Embark on your adventure by clicking here.
Dark Romance: A Performance to Die For
Your plans to propose to your beloved before her next opera performance are interrupted when she's kidnapped by a masked madman! Things take an even darker turn when you follow them to an otherworldly realm inhabited by both the living and the dead. Your only hope of escape is working together! Can your love conquer all in the face of death? Find out by downloading the game here.
Whispered Secrets: Enfant Terrible
When a stranger approaches you with information about an ancient artifact, you find yourself pulled into a strange world of nightmares and dark memories. Can you find a way to defeat the nightmare monster, or will you become its latest victim? Find out in this thrilling hidden-object puzzle adventure, available over at Big Fish Games.
The Witch's Apprentice: A Magical Mishap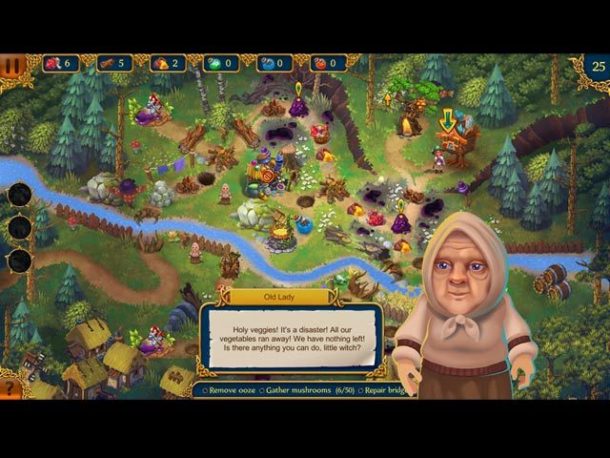 The young witch Grimelda is deep in the mire: All she wanted to do was dye her hair, but a tiny drop fell into her aunt's magic cauldron! Now the whole beautiful forest is full of nasty, sticky ooze, endangering the villagers! If her aunt comes back and sees what happened, she'll be in real trouble. So help the witch's apprentice by downloading the game here and playing now.
PuppetShow: Faith in the Future
After your puppet master friend writes to you with concerns about her research and the final tests, you rush to her aid. Her suspicions are quickly confirmed when someone sabotages the experiment, throwing her life in the balance! Can you uncover who the true master is and save your friend before it's too late? There's just one way to find out: head over to Big Fish Games and download the game today!
Grim Tales: The Hunger
Your niece Jackie Gray has been murdered by a killer whose crimes went unsolved 17 years ago. Team up with Jackie's policeman father and use your powers to go back in time and stop the killer before their murder spree claims Jackie's life in the present! Will you be able to solve the cold case, or will the killer rise again to begin another reign of terror? Click here to find out.
Moai VI: Unexpected Guests Collector's Edition
Join two heroes on one grand time management adventure! Fate has brought a clipper carrying a curious naturalist and a pioneering geologist to the enchanted island Tapa-Tui. Old school time managemet strategy extravaganza, just one click away!
Lost Lands: Mistakes of the Past
Many people regret the mistakes of their past, but how many people get a chance to go back and change them? The dark sorceress Cassandra has broken free after centuries of imprisonment, killing all who oppose her in the Lost Lands. To stop her, you'll have to travel back to the past to unravel Cassandra's secrets. Can you do this? Click here to find out.
These would be our top picks from the plethora of games released in July. In case you missed any, make sure to pick them up and play them. They're all worth it!