With the first month of spring now behind us, it's time to look back at the best casual games released in the past 31 days and choose our winners. These will be the best hidden object games and match three games to play in April 2018!
Usually, we have more choices when it comes to these games – in terms of genres at least – but in March there weren't any notable releases except for HOPAs and Match 3, so we'll have to do with them instead. Not a lot in terms of numbers either – just 8 games managed to get on our list, but it's better to have fewer really high quality games to recommend instead of many poor ones.
So with these in mind, let's check out below the best casual games to play in April 2018: hidden object games and match three games released in March:
Immortal Love: Black Lotus
The joyous eve of your wedding is interrupted when your fiancé receives a mysterious black lotus and falls ill! While she rapidly ages, it's up to you to find the flower's sender and save her before it's too late.
Do you have what it takes to stop history from repeating itself and save an entire village? Click here to find out.
Wanderlust: What Lies Beneath Collector's Edition
You've been hired by a shadowy businessman to investigate the appearance of a pyramid in the Amazonian jungle. And by 'appearance,' he means the entire thing literally popped up out of the ground overnight! As a seasoned archaeologist, you know immediately that you're in for a strange adventure.
But nothing could've prepared you for what you find when you arrive – not only is this pyramid like nothing you've ever seen, but you're now racing against your own sister for bragging rights to the find. Click here to embark on your adventure today.
Mundus: Impossible Universe
Join the Great Shaman in a quest to explore the Impossible Universe. Find dozens of unique worlds with their own rewards… and dangers. Face challenging Match-3 puzzles and meet strange denizens of fantastic planets.
A really good game for match three fans, so waste no time and click here to download it today.
Dark Parables: Return of the Salt Princess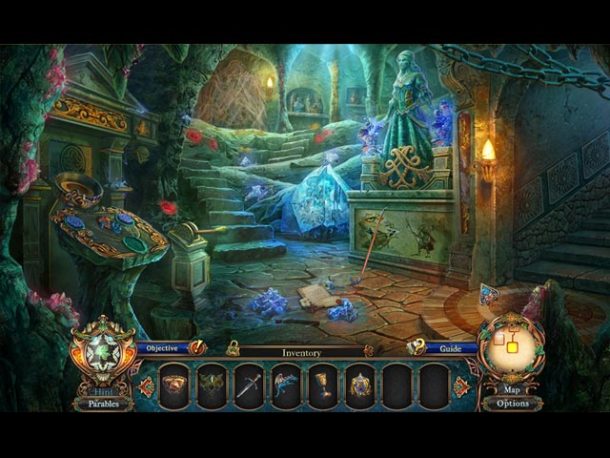 The Princess of Grak Kingdom went missing a hundred years ago. The Grak Palace also inexplicably collapsed at around the same time. However, a girl who might be the Princess has been sighted in the Old Town recently. You (Detective) are requested to find the Princess and solve all the mysteries behind the salt-transmutation.
As you approach the ruins, you are attacked by an abnormally strong man with hostile intent. With the help of two sisters imbued with special powers, you are narrowly saved from peril. As you delve deeper in the case, you find hints that this mystery might be linked to a case that you investigated long ago…
A beautiful tale for HOPA game fans and definitely one of the best games to play this month. Click here to download it now.
Caves And Castles: Underworld
Find adventure beyond your imagination and riches untold as you descend into the caves beneath an ancient castle! Match gems to remove obstacles, collect keys to unlock new passages and build your strength quickly to break through barriers in Caves and Castes: Underworld, a sometimes relaxing, sometimes heart-racing match-three game!
You can download the game from Big Fish Games.
Darkheart: Flight of the Harpies
Legend spoke of an evil magician who possessed the secret of eternal life which required that he steal the souls of unsuspecting villagers. It seemed as if no mortal soul could stand against this dark power but, according to an ancient prophecy one day there would be someone brave enough to face it!
The dark mage sent his Harpies to seize a fresh supply of souls. This time they took your parents! Can you save them in time? Click here to start your adventure and find out!
My Pretty Kitty
Do you love cats as much as we do? In My Pretty Kitty, take care of a digital pet by completing fun match 3 levels and earning Petdollars to feed, play with and dress Kitty in the most fashionable clothes available. The happier you make Kitty, the more rewards you'll earn! So waste no time and get this game here.
Moonsouls: Echoes of the Past
You and your nephew Isaac are excited to bring your wares to the Victory Day Festival. But your plans are interrupted when a strange vessel falls from the sky! When Isaac becomes trapped inside, it's up to you to free him! This won't be an easy task, as an otherworldly foe has more destructive plans in mind.
But I am sure you are up for the challenge, as always. So click here to download the game and start playing.
These would be our recommended picks from the plethora of games released in March 2018. If you missed any, right the wrongs by downloading them and start playing! Enjoy!