There are so many lovers of Minecraft, it seems unreal. The game has attracted so many players, young and old alike. I am sure you already know what Minecraft is and Minecraft bedroom Ideas (that we are going to talk about), it doesn't require any explanation given its popularity right now.
Some passionate Minecraft players diss people who do not play Minecraft and will try their best to get you involved in the game. Minecraft has taken the gaming industry by storm since its inception in 2009 and still is.
More than 112 players are playing Minecraft each month. You will be surprised to know even schools now have incorporated Minecraft in their curriculum thanks to one Swedish school. Students are taught Minecraft to teach them about architecture and motivate them to create engineering marvels in the future.
Minecraft is for dreamers and creators. People who love to put their imagination to use and create magnificent structures. There are endless possibilities in Minecraft that you get to explore once you start playing it.
Many players love building huge structures and some love creating smaller cozy and detailed spaces. One such space is the Minecraft bedroom and the Minecraft bed, only people who have the eye for detail invest their valuable time and creativity in creating Minecraft bedrooms.
Checkout 7 Minecraft Bedroom Ideas That You Must Try in 2022
Are you looking for some Minecraft bedroom ideas or Minecraft bed ideas too? We will share 7 Minecraft bedroom ideas that you must try in 2021 before this beautiful year ends. Don't go into the new year without trying these fun ideas that you can draw inspiration from for your own Minecraft bedrooms.
Emperor Builders Bedroom
A bedroom fit for a builder like you with a single bed only! Yes, a single bed is for royalty. This bedroom will amaze you, it does not require a lot of time. This room has a floor that is pixelated and design on the walls.
The bed that is pixelated will remind you of the blocks in Minecraft. There are many routes for entry at the rear and front portions. Create a bedsheet for the bed and pixelated flooring as well. You can use your creativity here.
Infinity View Bedroom
Who wouldn't love to look outside the bedroom to a spectacular infinity view? This is a beautiful Minecraft bedroom design idea. Imagine waking up in the morning to see a beautiful view and entering the beautiful world of Minecraft, nothing can beat that!
This bedroom is medium-sized and has a cabinet on the wall in blue, a table designed for reading, and a route for entry is a dedicated wall space. To a real Minecraft fan, blue holds a special place. Blue blocks in Minecraft depict a source of power, so the blue color will motivate you to do something better. The view of green trees, rivers, and blocks will make your mornings bright and full of spunk.
Checkout 10 of The Best Minecraft Floor Designs
The Minimalist Bedroom
A gamer's bedroom is generally full of various elements and a lot of things going on in the design but what to do if you are a gamer who loves minimalistic design? Create this minimalistic Minecraft room with a few things. Use this Minecraft bedroom idea and create a similar bedroom for yourself, with a small bed, a small number of artifacts, and a bookshelf to keep your books. This will be an ideal bedroom idea for all the fans of minimalistic designs.
Add a Redstone torch and use it while reading at bedtime. Above the bookshelf is a sword which has a lovely design. It adds to the beauty of the room and the overall look of the room. You stick two stickers on the walls that are on the right and left, keeping the designs bright but simple. This will keep the room minimalistic and in the theme of Minecraft as well.
Minecraft Block Bedroom
This is a truly unique Minecraft bedroom idea. Imagine living inside a block from Minecraft! Sounds interesting, right? This is a perfect bedroom for a crazy Minecraft fan who always wished to live in a Minecraft block. The wall's lower part resembles the pixelated Minecraft block. The design of the upper part resembles the sky in Minecraft. There is also a fireplace that is pixelated which is surprising. It adds to the room's decor and makes a livelier addition to the space ideal for gaming. There is nobody who would not enjoy this bedroom idea.
Checkout Best Minecraft Base Ideas
Treehouse Bedroom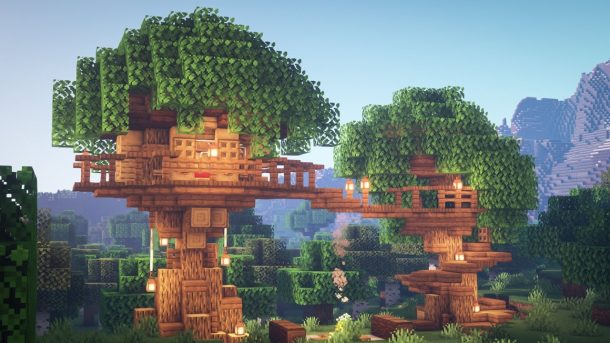 Designing a real treehouse in Minecraft is a hassle and it takes a lot of effort along with patience. Treehouses are just too nostalgic and are everybody's favorite. Creating a treehouse-like bedroom will make gameplay more interesting and fun for sure. This treehouse bedroom looks like a treehouse in decor and design.
Don't worry about having trees tall enough to be cut and made into treehouses in your backyard. With this bedroom idea, you can have a treehouse in your bedroom itself. You can make your treehouse according to your preference and make it as cozy as you like it to be. You can make it in a small area too. The bedroom has a treehouse in one corner and on the front wall, a pixelated tree remains still. The tree gives the room a natural look.
Minecraft Style Double Bedroom
If you have a Minecraft friend that you want to live with and also enjoy bright hues, this Minecraft room idea is tailor-made for you. There is no mess in this space, it is well-organized with not too many beds. It is an elegant and simple layout with a cabinet made of wood. This cabinet can store everything you wish to fill it up with. It will keep your space neat and clean without making a mess in the bedroom. Cabinet will keep the room and you well-organized.
To make the room give a more Minecraft feel and look, you can add in some stickers and paste them on the wall. The Minecraft greenery ground matches the logo perfectly. The addition of trees enhances the design even more. You can even add some more stickers of characters that are your favorite. You can pick Steve, Alex, Enderman, Creeper, Zombie, or whoever is your favorite.
Checkout 11 of The Best Minecraft Bridge Designs & Ideas
Modern Minecraft Bedroom
Why should your bedroom look like an old man's den? Your bedroom should look like you live in it. Decorate it as per your whims and fancies, make it your own. You can give it your own twist. If you wish to decorate and design your bedroom in a modern, sophisticated and elegant manner, consider this Minecraft bedroom idea.
This modern bedroom design has a crisp blue tint on the walls, a gaming look that looks quite professional, and professional-looking lights. It makes a perfect modern Minecraft bedroom that many players will enjoy and love. This bedroom is equipped with one bed which you can decorate according to you, I am sure you have many Minecraft bed ideas as well. It also has not just one but two bookshelves.
The bed you will see here will make you feel comfortable and extremely cozy, almost inviting you to use it. The two bookshelves are placed next to the window. So you can enjoy the view of the window and pick a book of your choice. It is an absolute win-win. The large window lights up the room making it more bright giving it a fresh look. It doesn't end here, the wall next to the window has a blue color which looks well decorated. The surface of Minecraft is used to design the lower part. All these things combined make the room complete.
Checkout 15 of The Best Minecraft Barn Ideas
Final Word
Try out these 7 fun Minecraft bedroom ideas in 2021 and enter the Minecraft world in style in the coming year. These ideas are fun and make gameplay even more fun. A bedroom is a place to rest so that the next day you can build more structures with zest and zeal. If you want to create a cozy space without spending too much time, these are the perfect Minecraft bedroom ideas that you can try out. It is your creativity and eye for detail that makes building a Minecraft bedroom or any other structure worthwhile. Build a treehouse bedroom or an infinity view bedroom, it is for you and your creativity that will make it your own little den. Don't let anything come between you and your love for creating your dream bedroom. The little things you decorate your bedroom with will be the most satisfying thing you do.