The primary thing in the Minecraft world is food which is very important for the survival of a player. Once you learn how the food system works in Minecraft you will know how important it is for you to have a barn. Once you hint, gather, and plant the only way to keep your food inventory organized you have to keep a barn. Here are the 15 best Minecraft barn ideas. All of them are great to survive any kind of world, here we go.
Large Barn
You will need a lot of resources for this one but once you figure that out with the help of gorgeous oak and spruce you can build this without any hassle. This is the only kind of building that can adapt to whatever amount of space you have. It also includes a horse stable so that you can keep your horses there and have a nice shelter in case it rains. It is also an ideal shelter if there is a looming threat of the mob.
Simple Barn
You don't need a huge barn when you can have this very basic design, thanks to SheepGG this design is one of the simplest and the most elegant designs that there is. You need a blueprint that is set in a 23×17 block area and then you can follow through. It has stunning stripped oak logs and spruce planks, this is one of the simplest designs that you don't need a lot of resources or space for.
Animal Barn
Some users are very animal friendly and don't want animals jammed up in an inhumane way on their farms. No matter how spacious the farm is, some players just don't like how it looks. With the animal barn, you have enough space to keep all the animals in free space, there are no guidelines for the interior design as well so you can play with that too. Most importantly it is a very nice space for all your animals so no user would feel bad about them coexisting with each other.
Checkout 11 of The Best Minecraft Bridge Designs & Ideas
Stone & Wood Barn
Next, we have a stone and wood one, it is perfect for a medieval theme and the resource combo is given away in the name, the stone and wared is a combination that can never go wrong. This barn helps you keep your resources for farming in a well-organized way, your animals too, have plenty of space in this.
Barn & Horse Stable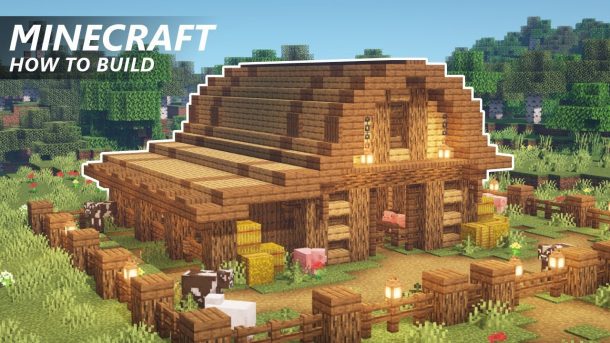 This one has exactly 3 sectors for your animals and a lot of space for you to have an entire farm. The interior of it has everything you need for survival and it throws an exquisite table with that. There is also space for the Nether portal that is only if you wish for it to be there.
Rustic Barn
If you are the kind of user who would like to have a simple survival foundation then a rustic barn is the way to go, it is a very low-maintenance barn but it is still quite exquisite. Even the materials you need for it aren't that much. You can have your base with just the bare minimum of crafting stations, beds, and chests. It is one of the only Minecraft barn design available that are functional as well as aesthetic.
Classic Barn
This one is the only one in the list that has texture, you only need quartz, red-stained clay blocks, and stone bricks for this one. I know it is quite tiring to get all the resources at once but once you do it is worth it. All these different resources together can make the barn look quite amazing.
Barn & Crop Land
This one is quite ideal for survival since you get a barn for your animals and a good enough cropland for you to grow your own food. You never run out of basic survival resources because of this type of barn design. You can build this on a flat area or around a village, you will need a lot of resources to make it but once it has been done your hard work will be worth it.
Checkout 10 of The Best Minecraft Floor Designs
Wooden Barn
This one is a personal favorite due to the kitchen area which is quite spacious, it has a sleeping area and a lot of storage space for all the crops you have. It is also a very beautiful building that is very detail orientated in terms of its decoration. It is also quite simple to get the resources for it.
Stone Barn
Another simple one, this has all the important things you need for a good barn, it is done up with stable and animal pens for your cows and horses, helping them to be safe from any hazard. Resource mining is quite simple too. If you are someone who relies on wood as a resource a lot then this is an ideal barn idea for you.
Spruce Barn
Let's say you already have several buildings and now you want a barn for the safety of your animals, you should start here, a Spruce Barn also includes a pen for rabbits. You can also experiment with other construction blocks to fit the theme of your base, so don't shy away from being quirky with this one.
Medieval Barn
As the name suggests this one is an ideal one for a medieval theme, it is made up of Spruce blocks and the coolest feature it has is that it keeps you and your animals cozy and keeps all your resources in order. You can keep a lot of horses in this type of barn. The color of it depends on Spruce logs and wood but you can play around with it.
Small Barn
If you do not feel like doing something extravagant and just want a quaint little barn for the sake of your few animals and gathering of your few crops then this is ideal for you, it would not even take a lot of resources to build this one and if you are the kind of player who likes mobility then this is an ideal barn idea for you.
Survival Barn
All the materials you need to make this are very easy to attain. It is the basic barn that has all the needs for your survival. You don't need blueprints to construct this and it's amazing how you don't need to use the barrels to lay the foundation. It is an aesthetic barn even though it seeks out to do the bare minimum.
Simple Wooden Barn
A lot of players don't like wasting time and effort to build a project that will require long hours to establish a foundation. So for this one you need different wood blocks to set out the frame and make pens for your pets, it is a simple barn as the suggests and happens to be one of the favourite ones for most players.
Conclusion
I hope you have all the information now about the best ideas for Minecraft barns, you can decide to choose whichever one you think meets all your needs. Some of them need very little work and some of them need quite a bit of effort and patience. I hope you have found what you have been looking for.