There are a lot of problems with the water bodies in this game, and it can be a real challenge to pass this specific hurdle without getting hurt by mobs or slowing down any movement. I know you must have tried looking for the solution but with a little bit of help, you can do anything. The advice we would like to offer is, a Minecraft bridge idea, duh? Here we have 10 best Minecraft bridge ideas that we have curated after speaking to gamer communities, they are backed up by real experience.
Check out some of the Best Minecraft Bridge Designs
What we have done here is that we have curated a list of the best Minecraft bridge designs for you to pick from, we have told you what they will add to your Minecraft world and what materials you could use to make your beautiful bridge happen. 
The curation of this list is completely dependent on the community of Minecraft players who swear by each design that we have mentioned here. Bridges make for one of the prettiest aesthetically pleasing wonders in the world of Minecraft and we have sworn to make use of our research so that your world has nice bridges, believe us you will thank us for it.
1. River Bridge
This is a great idea that will help you defeat the sea, all you have to do is connect the two pieces of land divided by a small river. You can rest your shoulder on the oak blocks and other beautiful looking items to enhance the forest atmosphere. Swimming happens to be a valid method for exploration in this game but if you just add some effort of road connectivity when you are out majestically riding through the game by a horse, the best part about this particular building project is how little time you have to invest in finishing it off.
2. Medieval Stone Bridge
Medieval buildings are a recurrent theme among minecraft players, stone bridges are amazing to build. It is an important project for anyone willing to have any chance in a medieval village in their minecraft world.
3. Cute Bridge
Like the name suggests this bridge idea is aesthetically pleasing and is an incredible excuse to add a pretty minecraft bridge near your base, it has brilliant lanterns that hang from the high ceiling roof. It is such a great addition to the village you have made and to make for an interesting site around your base.
4. Stone Bridge
Another one that is not very different from the name is a stone bridge, the stone is one of the most readily available resources when you start a new world, so we are sure you have great accessibility to it. Put all those stones to good use, the design is easy to follow, it is clean cut and it enables you to see how beautiful your new world's terrain is.
5. Hanging Rope Bridge
I know the physics of this title seems a bit off but thanks to how this video game works you don't have to worry about useless things like gravity, to make this bridge you also don't need a lot of resources to create this. You are able to build this one on any elevated surface.
6. Japanese Bridge
A lot of gamers just play this game to recreate this (no really, we have evidence) this is an amazing bridge for surviving the world they are in. It is quite strategic to make this and it illustrates how beautiful the environment is through its reliance on the antique aesthetic. It has beautiful lanterns that hang from a breathtaking roof. Fun fact the blocks that were introduced during the nether update come in quite handy for this type of bridge.
7. Fairy Bridge
Who doesn't vibe with the cottagecore theme, you can get three versions in the same bridge so it is really up to you if you want to do that or use some mods to shake things up a little. There is of course the touch of oak leaves that hang from this particular bridge, according to our research most shaders fans love this. It is one of the most beautiful bridges that minecraft worlds have to offer.
8. Tribal Jungle Bridge
The jungle bridge is another antique-looking bridge. The construction of this bridge is based on tropical resources, it connects two high places and is decorated with vines. It has used jungle wood blocks as the main resource for its primary structure.
9. Diagonal Bridge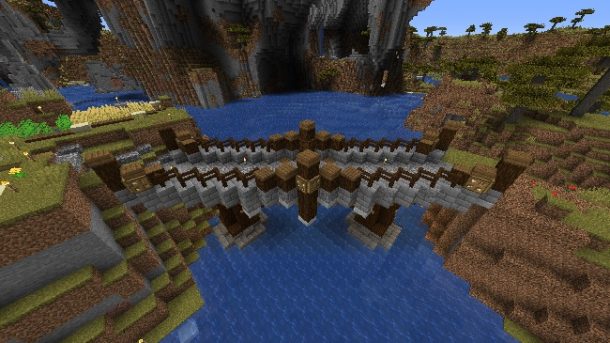 This one is such an adorable one to witness, this design is riddled with complexity please remember that the curves and diagonals aren't easy to recreate but if you pull it off then it is quite incredible to witness it. It is the modern yet ancient aesthetic that makes all the difference for this design.
10. Small Bridge
This is a brief yet wonderful bridge to have, it doesn't take that much time, it is quaint and is also quite practical if your agenda is functional. You can always decorate it later by choosing options like sugar canes, various kinds of blocks, and even oak leaves.
11. Suspension bridge
Another bridge that is incredible is the suspension bridge, it goes through an entire island. This one has a post that will extend through the island and is still a bit larger. It also has a staircase that goes down in the middle, this comes in handy if you have a small island in your river.
Conclusion
Hope this helps you figure out what is the best idea for a bridge in the fun game of Minecraft, there are always other ideas but these are the top picks for ideal ones that are easy to make and are in sync with you aesthetically. So what are you waiting for? Wear your construction hat and get to work. Always remember patience is the key if you want to adorn your Minecraft world with beautiful bridges.