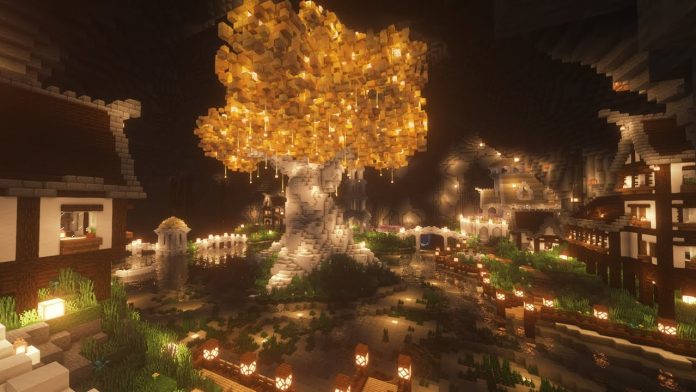 There are a lot of things you can create in the Minecraft world, the ideas are seamless, your imagination is your best friend in this game. One of the coolest things you can do is make a village, a couple of houses jammed together to look like an actual small village. What is better than that?
The villages are the best part of this game, we have curated a list of Minecraft villages ideas you can be inspired from so that you can also create your little village, all the villages in this list are created by people who are players.
All the villages are complex and are detail-oriented. You also had it to the players who have made it to the list for their craftsmanship.
Here are the Best Minecraft Village Ideas
Unlike barns, bridges and other things that you can create in the Minecraft, Villages are also important and below you can find 10 of the best Minecraft village ideas that you can try.
1. Underground Village
This village, despite its name on a mountain, the resources that you need to make this come from adobe blocks that are available deep in the mountain's face. The tree in the middle is made out of stone and hanging blocks similar to the ancient relics. There is also no greenery, it is just stones and hanging blocks. One of the coolest, right?
2. Ohayou! Japanese Minecraft Village
This is an oriental idea where whenever you step outside you are right next to the rising sun. This one has a Shinto shrine, bamboo, sakura trees, you name it, everything authentic to give you a feel of Japan in the virtual world. You also get to build it on your own. You can use anime mods to make this world much better.
3. Kingdom Village
This is one of the coolest village ideas that I have ever seen. It is a glorious red-roofed village that looks large enough to pass off as a city. It is right next to a water body so it's ideal for resources, this Minecraft village stands out. The design has grandeur with a castle in the middle, make sure you commit to it if you wish to go through with this.
Checkout 7 Minecraft Bedroom Ideas You Must Try in 2021
4. Mercantile Village
This is a modest but beautiful village idea, the best feature is that every house is centered around the villager's profession in this game. With farmers and clerics and other very real professions. Every profession's house will have the things the person from that profession is supposed to have. It also has a town center where campfires happen and villagers have their late-night festivals.
5. Medieval Town
This is a theme that is quite popular with Minecraft, this one has manors that are detailed and blocks that are decorated. A lot of folks also decide to color their roofs. It has a tower on the side to sell you the medieval theme. It is quite creative actually how different players add on to this idea differently. Remember to protect yourself and your villagers from the mobs and raiders by fortifying the area. The main resources for this one would also be easily achieved but it will be time-consuming to build it. Still, it is worth it, thank us later for this great idea.
6. Tiny Village
You don't have time or patience but still want to create a nice village? Great, this is just the idea for you. This is the only kind of village that will take a matter of hours instead of days, you also don't need a lot of resources for this one. The designs aren't complex either. It has the bare minimum for essentials for its villagers. It has some small stores, a water hole, a watchtower for protection and a wall fortifying the village, and rows of wheat crops to feed the villagers. If you want to live a modest village life then this is the best way to do it. You also don't need a lot of resources for this one.
Checkout 10 of The Best Minecraft Floor Designs
7. Taiga Village
If you liked this previous idea but you also crave a rustic appeal, you can do something like this for yours. This is a conventional village with houses that are spaced out enough.it has space for plots, crops and has a gated fence.
This village has wooden and rural charm, it is idyllic. It doesn't need an abundance of resources or time.
8. Mountain Village
This one has its base built on a rugged peak that lets you in on an amazing view, like the name suggests it is a mountain village. The elevation lets the house be in a multi-layered village of homes that are built on different areas that are not only aesthetically pleasing but also surprisingly logical. This is the only kind of village that will give you the view as well as all the basic needs you want for your citizens. It is a bit time-consuming and the resources are a bit hard to acquire but in the end, it is all worth it.
9. Survival Village
You are scared of skeletons and creepers but you like playing on hard mode? This is the solution for you. You can fortify the base in this and fence your walls to avoid spiders. This is an ideal village idea for someone who likes playing it dangerously but also likes taking calculated risks. You are safe and excited in this kind of environment.
10. Plains Village
This one may come off as a normal village but it is not. This one has a river which keeps all the villagers happy. It has plants, crops, and livestock. so all the villagers are quite happy here. Once you have a couple of huts ready, give them their charm. This is a kind of village that needs no selling from our side. You just have to figure out the geography for yourself. It is an easy village to build, with easily available resources.
Conclusion.
These were our favorite ideas for Minecraft village, tell us which one is yours and why. There are other things you can do with your village, you can always do your own things but these ideas are bulletproof.