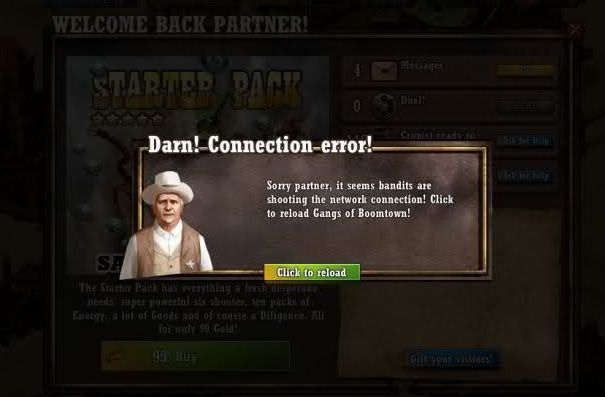 Gangs of Boomtown is a fresh new social game from Digital Chocolate and it looks like a hit already, but like most of the games that we see released and that are at the beginning of the road, there are some problems that manage to upset the players. In this article, we'll try to find out how to fix loading problems in Gangs of Boomtown, as well as gifting problems and neighbors issues.
What are the most common problems when it comes to loading Gangs of Boomtown?
Probably the stuck at loading screen is the most common problem followed by the "Darn! Connection error!" message. These are both loading problems and they could happen for more than one reason.
First of all, it appears that people who have a lot of neighbors (or over 500 friends on their social network) will experience loading problems with the game. So try to reduce the number of neighbors for better performances, as the game usually gets stuck trying to load all the neighbors.
Next, it might be a browser problem. Although not confirmed (and this should normally not happen), people are reporting to solve their loading problems or other issues by trying to load the game on a different browser (usually making the change from Chrome to Firefox, but you could try going from Firefox to Chrome as well).
Another thing you should try to do is to clean the cache of your browser. Digital Chocolate themselves have posted instructions on how to clean your browser's cache, and you can check it out here.
What about you? Are you having any loading problems or other issues when trying to play Gangs of Boomtown? Did the fixes above help you or you are still struggling to get things right? Let us know in the comment section below!