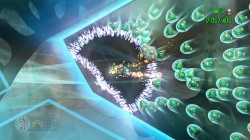 If you are a fan of Shmup games and of Sony's PlayStation 3, then you have played Blast Factor for countless hours already. And, even though fun and challenging, the game still missed something: trophies. Sony has addressed the problem and, starting today, fans can play with an extra reason in mind: to unlock all the 25 trophies introduced in the game.
According to the PlayStation blog, the main version of the game got 15 trophies while the two expansions got 5 each – so only the most hardcore fans will have access to unlocking all the rewards. Also, since just updating a game with trophy support was not enough for Sony, they have also added rumble support for Dualshock 3 controllers! The update will be applied automatically, so you won't have to re-download the new version from the store.
Blast Factor is a little physics based shoot'em up game which takes players into a fierce microbiological arena to guide a nano-machine against viral swarms. With interesting additions such as auto-adjusting difficulty levels, HD support and an online ranking system, Blast Factor is a really successful title on the PS3 – and one worth playing, too.