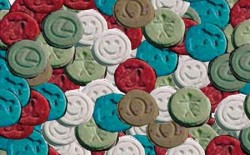 If you didn't know that purchasing used games is a pretty risky business, now you have all the needed proof: a man living in the UK who purchased two used copies of Grand Theft Auto for his kids (who are apparently way under 18) found out lots of Ecstasy pills in the game's manuals. And just imagine how long the "rightful" owners of the tablets searched for them!
The father of the kids, Richard Thornhill said: "When I opened the box up, the cling film wrap fell out. I could not believe it. I have two children and my son plays Xbox all the time. He could easily have opened the box and found them. I dread to think what the consequences would have been if he had. He is only 12. He could have died."
Gladly, nothing bad happened since the father discovered the pills himself. However, he did get pretty upset and urged the Gamestation staff (since that's the place where he purchased the GTA copies) to be more careful in the future. The pills are probably more expensive than the game itself!
Gamestation replied with a statement saying, "We have rigorous procedures for accepting pre-owned titles and checking them before they are put back on sale. We have launched an immediate investigation and we will work closely with police to find out what happened in this instance."