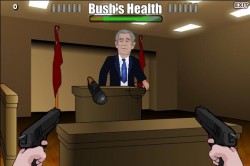 I must admit I am amazed how fast these flash developers moved to create a game based on the latest Bush shoe-throwing incident – a game named Bush Boot Camp that can be played for free in your browser. So steady your skills and get ready to save George Bush Junior from tons of shoes thrown at him.

As I said, Bush Boot Camp can be played for free on the official website – but don't expect to be met by a high quality title – it was, after all, a game created in one day. Your job is, as a secret agent, to protect the president by firing dual-wielded pistols and shoot down the shoes thrown at him. The game is pretty funny for a few minutes, especially because if your aiming is bad you can actually hit the president and cause more damage than the shoes. However, shooting flying shoes and protecting George Bush Jr gets boring quite fast – not to mention the fact that the parody fails to impress since there are no special effects, no bruises, no changes in the gameplay, no extra bits to make you laugh and ask for more.
"If you watch the video clip, the Secret Service don't move to protect the President until the second shoe has been thrown," said Sadi Chishti, managing director of T-Enterprise, the developers of the game. "We're hoping the agents will use this game as a training aid for future footwear attacks on world leaders."
That explains why it's not fun – it's for training only!