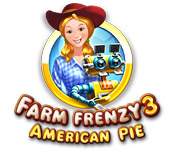 If you tried Farm Frenzy the first time I've recommended it to you, it means that you still have the memory of a really solid casual game that challenges you to manage a farm. Today you can get one step further and try your luck at Farm Frenzy 3: American Pie, a better and more complex time management game (that has nothing to do with the comedy with the same name!)
Many people consider the Farm Frenzy games (including Farm Frenzy 3: American Pie) an alternative to the highly popular FarmVille, but that's not really the case, even though the concept is basically the same. However, this doesn't mean that this cute little game ain't at least as fun as the online one.
The official description tells us everything about Farm Frenzy 3: American Pie you'll have to help "Scarlett, the feisty star of Farm Frenzy 3, as she puts robots to work on her land in this Time Management game. Can you keep up with the latest advancements in technology as you grow crops, feed animals, collect produce and manufacture goods? Of course you can! Just don't let the zany new animations distract you from the task at hand. Featuring all-new levels packed with never-before-seen characters, buildings and challenges, Farm Frenzy 3: American Pie promises a bumper crop of fun".
And that's exactly what you wish to get, right? Have in mind that you can try out Farm Frenzy 3 completely free of charge over at Big Fish Games and only if you like it purchase it for the mere sum of $6.99! Have fun, farmer!