UK gamers stand to pay quite a bit more with the upcoming generation of consoles.
A user on Reddit noted that after converting his Microsoft points to currency – part of Microsoft's initiative to phase out the point system – games appeared to be more expensive. In the past, 1200 Microsoft points converted to 9.99 pounds. After the change however, games worth 1200 Microsoft points are now being listed for 11.99 pounds. This appears to be part of a larger price hike, with another user reporting that all digital titles appear to have been increased in price by roughly 33%.
Update: A spokesperson for Microsoft had this to say: "We are aware that select regions experienced some incorrect game title pricing in the Xbox Live beta. This was an unintended error that we are in the process of fixing. We'll be reimbursing impacted beta participants for the difference in what was paid and what the price will be after the update is available to all members."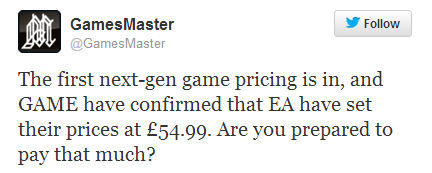 Earlier today, Gamesmaster also tweeted that they'd received confirmation from the UK games retailer GAME that EA will be increasing its next gen game prices to 55.99 pounds. This is again a 33% increase from the average retail price of games, which currently sits at around 40 pounds. This would be the equivalent of an increase from the typical 60 USD price of games to $80.
Update: GAME have confirmed this increase in a FAQ on their site. Apparently "At present, the only publisher to confirm costs of their next generation games are EA, attaching a price of £54.99."
With the rising costs of video game development, many have assumed that next gen games would get a price increase, and it appears that this has come true in the UK.
Unigamesity has reached out to both Microsoft and EA for statements regarding these price increases.