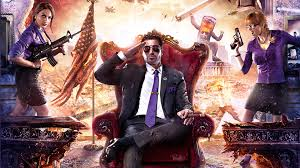 Saints Row IV developer Deep Silver has confirmed that their latest Saints Row has sold over 1 million in its first week of release.
Deep Silver has labelled the game a "smashing commercial success. Klemens Kundratitz, CEO of parent company Koch Media has added his congratulations, saying: "We are incredibly happy of the reception for Saints Row IV as a critical and now a commercial success," and that he is 'very proud' to have Volition as part of the Deep Silver family.
The sales of the PC version were given extra kudos after early sales were treble those of previous series entry Saints Row: The Third.
Also announced by Deep Silver was the release of two DLC packs: The Presidential Pack and the Grass Roots Pack.
These packs give players a few more customisation options. The Presidential Pack, which was part of a pre-order bonus at certain retailers, sees players given the option to play as current and former US Presidents as they wreak havoc in Steelport. You get the choice of George Washington, Abraham Lincoln, George W Bush and Barack Obama masks, along with outfits for each.
The Grass Roots pack sees the introduction of Hillbilly costumes and themed weapons. This comes with a truck, nicely fitted out with a pink flamingo, a double barrel shotgun, a new assault rifle and a plunger gun.
These add-ons are not part of the Season Pass, so you will have to pay that bit extra to get them. They will cost you $2.99/£2.39/€2.99 each.
[Source: Games Industry]