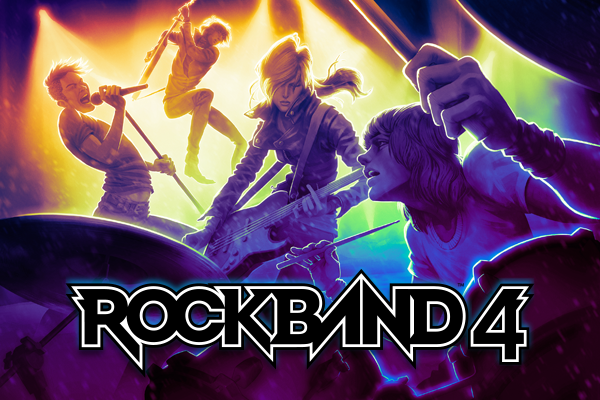 Harmonix has announced Rock Band 4, with a release scheduled for later this year on Xbox One and PS4, five years after the last entry in the series.
"With Rock Band 4, we're doubling down on the energy and excitement of playing music live with your friends," says Harmonix Chief Executive Officer Steve Janiak. "Focusing on the core experience that our fans have told us they love allows us to evolve established gameplay in meaningful ways that we can't wait to share with everyone later this year."
The game is being made in partnership with Mad Catz, who are bringing newly-designed wireless peripherals to the game.
Mad Catz will be making two bundles available to purchase:
• Rock Band 4 Band in a Box bundle: includes a copy of the game, a new Wireless Fender™ Stratocaster™ Guitar Controller, a new Wireless Drum Kit and a Microphone
• Guitar Controller Bundle: includes a copy of the game and a Wireless Fender Stratocaster Guitar Controller
In a FAQ, Harmonix said they are working with Mad Catz, Sony and Microsoft to try and make sure the old instruments will work with the new game, however they say: "This is a challenge on both the software side and hardware side, but something we'd love to happen. We'll have more information on this in the coming months."
In terms of previously purchased DLC, Harmonix also stated that along with the 'killer' soundtrack for the game, it will support over 2000 tracks released as DLC for the series since the original launched in 2007.
"Since the beginning, we've called Rock Band a music platform. Players responded by downloading hundreds of their favorite tracks, and building a massive library of playable music," says Rock Band 4 Product Manager Daniel Sussman. "It's important for us to respect those purchases and enable our fans to bring that content over to the Rock Band platform on new generation consoles."
Tracks already bought will be available to download at no additional cost for Rock Band 4. Hundreds of tracks will be made readily available at launch, with new and 'Legacy' DLC tracks being added "regularly" after the game launches.
Harmonix says: "The timing of release of legacy DLC on next-generation consoles is to be determined and may be subject to change. Legacy DLC will be downloadable and playable in Rock Band 4 only after the DLC is released on next-generation consoles."
In celebration of the announcement, Harmonix is offering a free track: I Still Believe by Frank Turner for Rock Band 3 and Rock Band Blitz on PS3 and Xbox 360.
More information will be revealed in May.
What are your thoughts on this series' resurrection?