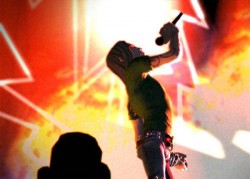 It's that time of the year when rock star wannabes who don't have an Xbox 360 will get their fair chance: Harmonix announced that Rock Band 2 is coming, as scheduled, on October 19 for PlayStation 3s, with PS2 and Wii versions hitting the stores just in time to be bought as Christmas gifts. In addition, the Rock Band 2 Special Edition Bundle for the Xbox 360 will also be available on retail shelves October 19.
Rock Band 2 seems to be the musical game with the largest music catalogue including over 100 songs on the Rock Band 2 soundtrack with both classic and up and coming artists: AC/DC, Guns N' Roses, Bob Dylan, Pearl Jam, Motörhead and more! Also, it's worth noting that most of the original Rock Band songs can be played in RB2, too.
In addition, Rock Band 2 owners (Xbox 360, PS3 and Wii) will have the ability to export their in-game band avatars to the official Rock Band website to use as profile images as well as order custom Rock Band merchandise including apparel and figurines. But, most important: you'll become a true rock star. So rock on!