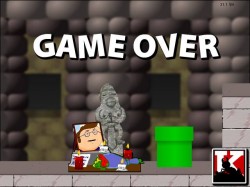 Today's free flash game of the day is a hilarious little gem titled You Only Live Once. And boy, you'll totally get the meaning of the title after you'll start playing this game. For free, in your browser, without additional downloads. And trust me it's a must play, especially if you have a sense of humor or/and you're willing to have a laugh.
Basically a platformer (a classic one, actually) in which you have to save your beloved girl who was kidnapped by an awful monster, You Only Live Once can be considered a parody of computer and video games in general – and it does a really great job with that too. I am not going to spoil the surprise(s) for you, but you should be prepared for some.
For example, the official description of You Only Live Once is as fun (and random) as the game itself: "The second game ever playable in Swahili. Dubbed in English AND Japanese. This is a turkey the size of the Titanic. Accidentally it's also playable in Turkish."
Want more? There is! For example, the author included a link for those who get stuck: however, it's pointing at The Strokes' song You Only Live Once. Nice, right? It might seem pointless and stupid now, but it really isn't. Just try the flash game You Only Live Once and you'll find for yourself.
Bravo to the developer of this little fun jewel!