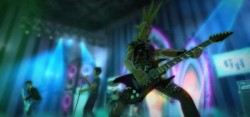 It's no surprise that, even though Activision just launched Guitar Hero World Tour, the first track packs are announced. This time we're talking about legend Jimi Hendrix and upcoming rock stars The Raconteurs. Both track packs will be available by the end of November.

The first one to be made available is the Jimi Hendrix one, with Guitar Hero World Tour welcoming him as a playable character, too. The tracks you'll be able to download will be If 6 was 9, Little Wing and a live version of the well known Fire. All the songs will be available on November 13. The Racounters will be making their debut in video games on November 20 with three songs: Salute Your Solution, Hold Up and Consoler of the Lonely.
The Raconteurs Track Pack and Jimi Hendrix Track Pack will be available on Xbox for 440 MS Points and on PS3 for $5.49. In addition, the three tracks from The Raconteurs Track Pack will be released as single downloadable songs for Xbox 360 for 160 Microsoft Points, PlayStation 3 system for $1.99 and Nintendo Wii for 200 Wii Points.