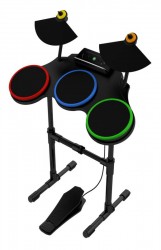 It comes a time in every virtual rocker's life when extra accessories must be purchased in order to keep being appealing to the audiences. At least that's what Harmonix believes, since the company plans to release a new instrument for Rock Band 2. Nobody is exactly sure what it could be, but taking a wild guess couldn't hurt, right?

If you were to ask us, we'd go for the already rumored keyboard accessory, but it could also be "just" some extra cymbals. The idea is that there will definitely be something, but Harmonix prefer to keep it a mystery for now – and that comes after they straightforward lied about it.
Here's the story: in previous Rock Band 2 previews it was stated that the new extra connection that could be found at the back of the drum kit was just a jack for the second kick pedal. Now, in a review guide sent to the Official Xbox Magazine, Harmonix admitted that the jack was there to server other purposes: "The Rock Band 2 drum set has a second input on it (the bottom one with the orange ring) that is an expansion port," the guide reads.
All we have to do now is wait and see what the upcoming addition will be. Anybody else hoping for the keyboard?