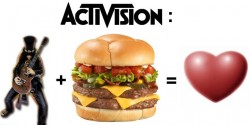 For the only person that did not know it, read this: Activision loves sequels and they're going to milk franchises until… uhm… actually, I doubt they'll ever stop! The proof that this statement is correct is the recent announcement from Activision regarding sequel plans: Call of Duty: Modern Warfare 2, Guitar Hero 5 and new Tony Hawk and James Bond titles. Surprise or not, they also plan to release an original racing IP tagged as "Mario Kart meets Forza".

The announcement was made during an in-game ad Massive event in Manhattan, as the MTV Multiplayer blog reports. At the meeting, the giant publishers presented their upcoming games that would make sense for in-game advertising (Massive being the company that made, among other things, the Barack Obama ad in Burnout Paradise).
Anyway, the presentation kicked off with a hilarious image from the vaguely named Guitar Hero 5 with a Burger King ad to the right of the note highway – but at least they don't advertise for cakes and candies while offering Elvis DLC, that would've been even more stupid!
Also, Activision announced that Call of Duty: Modern Warfare 2 will be released in fall 2009, but they did not offer any further details. In September we'll get a new James Bond game developed by Bizarre Creations but this time the game will not be tied to any movie. Also, the company announced that an upcoming Tony Hawk game is planned, but said that we'll not play it with a controller in our hands. I dunno why, but this makes me think about the Skate it ad.
Except for the sequels, Activision also announced a new racing title and, strangely, they said nothing about possible or upcoming Blizzard games. Still, a lot of milking, don't you think?