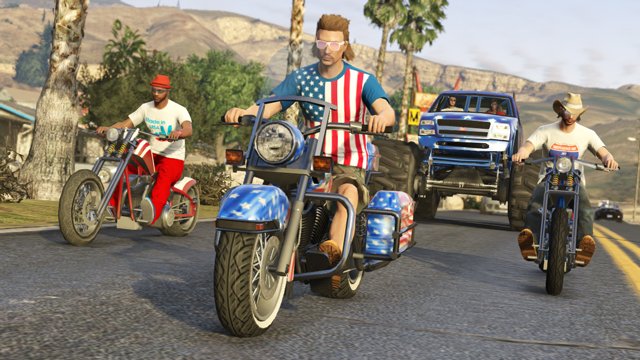 Grand Theft Auto 5 has received yet another piece of free DLC "to celebrate the birthplace of Freedom."
The Independence Day Special (In association with Ammunation) introduces two new star spangled vehicles, a sovereign Motorcycle and more importantly the super-sized Liberator Monster-Truck.
The vehicles come alongside two new weapons, the high powered Musket and the firework launcher.
As per, the update brings some new properties and introduced 12 different firework displays! Anyone who has been hoping to have their very own garden should check out the new Vinewood Hills properties. The update also allows players to ride the Ferris Wheel and Rollercoaster which until have lay dormant on the Pleasure Pier.
Rockstar have also kindly thrown in new clothes, mullets and Eagle masks so that you can show off your patriotism with a 'Made in the U.S.A' t-shirt and mullet combination whilst running over cars in your new monster truck.
Whilst not as exciting as the new content, the update also introduces additional game improvements:
"The automatic update for the Independence Day Special also includes additional game tuning updates and other adjustments, including the new On Call Matchmaking function. This new option allows players to accept a Job invite and continue playing in Freemode until that Job fills up, reducing time spent idle while waiting for a Job to start."
The complete list of bud fixes and tuning updates can be found by visiting the Rockstar Support site.
This DLC pack is only available for a limited time until ("mid-July" according to Rockstar) so make sure to download it soon.
What are your thoughts on the DLC? Let us know how American you feel in the comments or Tweet me @JonathonAalders