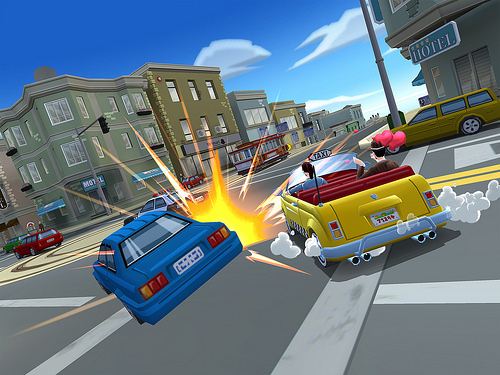 Sega has announced that it will be reviving the Crazy Taxi series in the form of a free-to-play title to be released on iOS devices.
Called Crazy Taxi: City Rush, it is being developed by the series creator Kenji Kanno as well as one of Sega's mobile developers Hardlight Studio. The game will be a mobile exclusive and is scheduled for release later this year.
"I'm very excited to finally be able to share with you the first news of Crazy Taxi: City Rush," Kanno said. ""We are delivering a truly fun game that captures everything our fans love about the original and infusing it with several new features to create an even more fantastic and memorable experience."
The game will use a 'one touch' control system for driving, where you swipe your screen to change lanes and turn corners as your try and complete a variety of missions and challenges.
To celebrate the games announcement, for a limited time you can download the original Crazy Taxi for free on iOS.
You can take a look at the teaser trailer below, which primarily focuses on the customisation options for the taxi and how you can upgrade its stats, as well as a look at a gameplay trailer for the game (spotted on NeoGAF):
http://youtu.be/em7kky1xaFc
What are your thoughts on the franchise moving to free-to-play territory? Is this the type of return for the series you would've liked, or would you have preferred a full game?
[Source: Sega Blog]