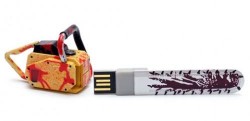 If you are a fan of the recently released top horror game from Capcom, Resident Evil 5, then you probably know that those living in Japan got spoiled by the devs with a really cool special edition, featuring a great Resident Evil 5 Chainsaw USB Drive (as opposed to the uncool canvas bag received by the rest of the world).
Either way, the thing is that you might want to get your hands on the Japanese special edition of Resident Evil 5 and get the cool Flash Drive. The problem might be that a trip to Japan just to get it is out of the question: but it should be solved, too, since now on eBay our fellow Japanese gamers have started to sell the Resident Evil 5 Chainsaw USB for prices of around $20. Which is a fair price, especially if you have in mind that other options don't exist. And it's RE5 we're talking about. And a very cool USB Flash Drive.
So check out this listing on eBay which lasts until April 16. You can also browse and see – maybe there are others with better prices. But we doubt that.