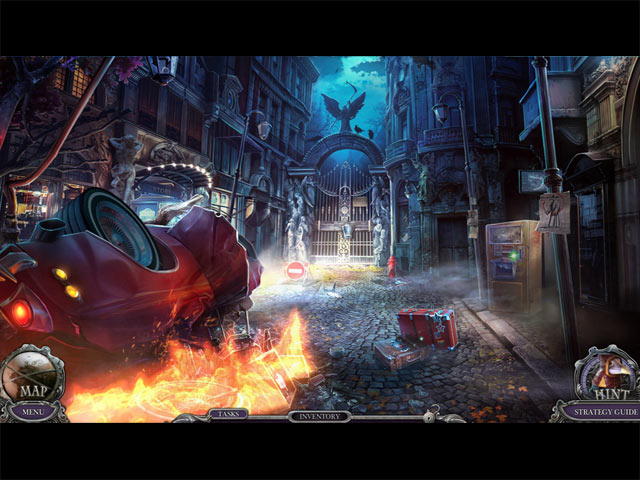 Another month has passed, a month that saw the release of a ton of great hidden object adventure games over at Big Fish Games, as well as one highly notable time management game to mix up things a little bit and offer you some variety. Either way, we are here to share with you the best hidden object adventure games of August 2014, as well as a must try time management title. We played hard to give you the best and nothing but the best and we really hope that you will find a new favorite now.
So here are the best hidden object adventure games released in August 2014, in no particular order:
Manor Memoirs
Even though she's a bestselling author, Scarlett has lost her inspiration. Leaving behind the hustle and bustle of her big city life, she moves into a beautiful 19th century mansion in the countryside. Unfortunately, this place needs some serious work, so Scarlett calls you for help! Search the mansion for treasures and hold garage sales to turn her ramshackle retreat into a comfy palace! But be careful. You never know what dark secrets you'll uncover, and they could be the key to breaking Scarlett's writer's block! Click here to check out the game.
Mystery Trackers: Blackrow's Secret
It's been two hundred years since the plague swept through here… Authorities quarantined the area around Blackrow Mansion, and it hasn't been opened since. But now, an up-and-coming starlet is receiving strange threats that have drawn her straight to the quarantine zone. What is hiding behind the rusted gates of the Forbidden District? Play innovative new mini-games and explore gorgeous hidden-object puzzles as you track down the truth behind Blackrow's secret! Check out this great game here.
Insane Cold: Back to the Ice Age
Jacob sat in the café, waiting for his wife. Helen had a special gift waiting for her for this anniversary: an amulet Jacob had picked up in an antique shop. But Jacob did not know that his gift contained within it a great power, a power meant to awaken an ancient evil. In a flash, frost giants were unleashed upon the world and kidnapped Helen. Great story and great game, waiting for you to play it here.
Mayan Prophecies: Blood Moon
Wild jaguars are running loose down the streets of a coastal South American town, but this is no act of nature – a hooded man is transforming people into jaguars and controlling them! U.S. Coast Guard Officers Alexis and Gregory are on the case, but they're up against a mighty foe. A young Mayan priestess claims that the Jaguar God is behind the attacks, continuing a war with the Moon Goddess that has raged for centuries. You'll need all your skills to save the world from erupting into chaos in this thrilling Hidden Object Puzzle Adventure game. Click here to check out the game.
Weather Lord: In Pursuit of the Shaman
An earthquake has devastated a once peaceful land and shattered the lives of its natives! The country is now teeming with unpleasant creatures, and an evil shaman is making a bid for absolute power. Unleash the awesome power of nature as you lead a band of brave warriors across a ruined landscape to defeat the evil shaman! Help the natives by gathering resources and repairing their villages. Complete quests using sunlight, rain, wind, and thunder to replenish crops. Eliminate the enemies and remove obstacles that stand in your way. Head over to Big Fish Games to check out this game.
Dead Reckoning: Silvermoon Isle
Silver-screen star Veronica West plummeted to her death from the top of a lighthouse on Silvermoon Isle. Was it an accident? A suicide? Or did someone at the party that night kill Veronica? Solve the case using an innovative "deduction" feature that turns questioning suspects into a fun, interactive game! Jump straight into the adventure by clicking here.
Beyond the Unknown: A Matter of Time
our grandfather, a famous archaeologist, was lost at sea years ago. He was searching for the legendary Golden Sarcophagus, rumored to hold a great and mysterious power. Now you find yourself shipwrecked on the very island he was seeking out… Will you finally be able to solve the riddle of the Golden Sarcophagus and find out what happened to your grandfather? There's no time to waste in this time-bending Hidden Object Puzzle Adventure game! Click here to check it out.
Death and Betrayal in Romania: A Dana Knightstone Novel
Tragedy strikes Dana Knightstone, the best-selling novelist with a gift for clairvoyance. Step into the shoes of Dana while traveling to a book signing event in Romania. Find yourself suddenly trapped by an avalanche in the cold mountain alps where you are stranded in an old castle. Discover hidden passageways within the old castle walls to free yourself from the grasp of the ghost of the castle that seeks to imprison you. Find clues buried under the dusty dungeon floor and uncover the captivating story of love and betrayal. Start your journey here.
Green City: Go South
Create a beautiful archipelago made of recycled garbage and establish a flourishing Green City in the open sea! Arrange green spaces and construct promenades, cinemas and waterparks while building generators and power plants to flood your city with eco-friendly light. Select from 4 types of buildings: residential, commercial, eco and energy-providing. Select upgrades from ecological to energy-efficient. Prove that oil derricks aren't the only things that can be built on the open sea! Click here to get this started!
Lost Legends: The Weeping Woman
Every year, the town of San Cristobal holds a huge festival to soften the heart of the Weeping Woman – a bitter spirit who kidnapped children long ago. For many years, the children of San Cristobal slept peacefully. However, three years ago, a child went missing during the festival for real, with another child vanishing each year since! Now another child has been taken – right before your eyes! Has the Weeping Woman truly returned to take revenge? Find out in this thrilling mystery adventure! Click here to check out the game.
And this is it! These are the top 10 casual games launched in August 2014 – we really hope that you can find at least one favorite on this list. Enjoy!