The first month of 2015 has passed and even though I was personally anticipating an extremely poor month in terms of casual games launches, I was proved wrong and we got a few brilliant games to enjoy throughout the year. Therefore, I have decided to help you start the year strong and share with you below the best casual games of January 2015.
Just like always, it's the hidden object adventures that remain in the spotlight and it doesn't seem that there will be a lot of changes on that matter this year – but I did my best and actually had quite a few other genres for today's best of list! But enough talking – let's move on and let's check out the best casual games of January below!
Jewel Match: Snowscapes
Explore 100 levels, collect toys and goodies, and upgrade 6 unique wintery scenes. Visit the shop for a myriad of items to purchase to help you on your journey and find 7 unique power-ups! Enjoy a festive soundtrack featuring songs you know and love and a free collection of beautifully relaxing wallpapers! Take a trip through a magical, snowy winterland in this frosty match-3 adventure. Build your own peaceful snowscapes and get those chestnuts roasting! If you haven't played a good match three game recently, this one's what you're looking for – right here.
The Musketeers: Victoria's Quest
From early childhood Victoria D'Artagnan dreamt of becoming the royal musketeer. One day, she was given a chance to realize that dream. She learned that the Crown Prince was wrongly imprisoned and would handsomely reward anyone brave enough to save him and help return the throne to its rightful place. Without hesitation, Victoria set out on a journey to rescue the Prince. Join her on this unforgettable adventure! Click here to check it out.
Midnight Mysteries: Ghostwriting
You're no stranger to paranormal visitors showing up at Midnight, but when a suspicious character drops a threat in your mailbox, you're drawn into the timeless struggle of good versus evil. The fictional characters of classical literature are coming to life, and not all of them are happy with the way their stories ended! Use books to travel through space and time, as you join Charles Dickens and Washington Irving on an exciting adventure through their most famous books. Can you unmask the villain in time, or will the world's most beloved classical literature be rewritten? Find out here.
Vampire Legends: The Untold Story of Elizabeth Bathory
From the makers of The True History of Kisilova comes another bloodcurdling tale ripped from the pages of history. This time, the horrifying legend of Elizabeth Bathory is yours to discover! You're a gifted finder of lost things, and a wealthy lord has enlisted your help in recovering his daughter, who never returned from the Countess' mansion. Can you find her before she succumbs to the horrors that will go down forever in history? Head over to Big Fish Games to check it out!
Bloom! Share flowers with the World
Bloom! is a time management game that takes place in Jasmine's flower shop where she plants, harvests, gathers and arranges flowers from sunrise to sunset. Play through over 60 levels as you create custom bouquets for each customer who enters. You'll earn tokens used to upgrade parts of the shop, hire assistants, expand and compete with rivals, but more importantly, you'll get to see how your customers' lives are changed by the simple act of sharing some flowers. And you will see that this game is actually really addictive and nice – click here to check it out!
Love Chronicles: A Winter's Spell
The entire kingdom has turned out for your daughter's 8th birthday celebration, featuring the world-famous magician, Mister X. But her party takes a dangerous turn when Mister X is revealed to be a dark wizard – he kidnaps your daughter and turns the entire kingdom to ice! Now he plans to awaken the ancient Queen of Ice, and he needs your daughter to do it. Your amulets protected you from his dark spell, and now you're the only one who can stop him. Check out the game here.
Delicious: Emily's New Beginning
Play Delicious – Emily's New Beginning and welcome a beautiful new member of the Delicious family! After living on a pink cloud for over a year Emily decides to reopen Emily's Place. However, with a baby to take care of, it proves to be different and quite challenging. Can you help Emily combine running her restaurant with being a good mom? Head over to Big Fish Games to find out!
Emerland Solitaire: Endless Journey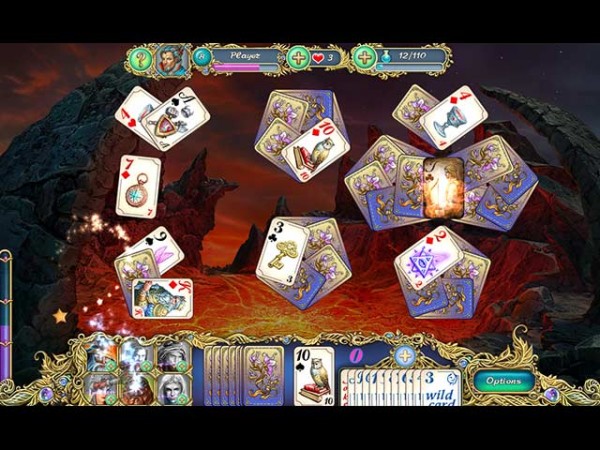 Wisk away to a land filled with wonder and danger. As a new adventurer, you must learn about all the dangers that face you while traversing enchanted forests, majestic bluffs, and more! This game is available completely free of charge and you can download it here.
Phantasmat: The Endless Night
In this chilling story, you're on your way to take your daughter to her high school prom when tragedy strikes. But your hometown isn't at all what it seems… Due to your expert sleuthing, the gruesome truth emerges. You can solve the mystery of what really happened here 50 years ago. But can you do it in time to save your daughter – and yourself? Click here to embark on your adventure and find out!
Lost Lands: The Four Horsemen
After several centuries of peace, a terrible new evil threatens the Lost Lands! Rumors are spreading of four mysterious horsemen cutting a path of terror throughout the land. They burn villages, freeze the water, and bring darkness wherever they go. The horsemen are after a key that will allow them to control parallel worlds, and they'll stop at nothing to get it. As the champion of the Lost Lands, you're the only one brave enough to face them… but can you track them down and stop them in time? Find out here.
So these would be our picks for the best casual games of January 2015. I am really happy about the fact that we have a nice variety here and I am sure that you can find at least a few games to enjoy this month!