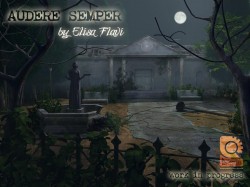 I love playing adventure games but like everybody else, I realize that the quality of adventure games is falling. Audere Semper, a title from Adventure Productions seems to have what it takes to bring back the genre on track or, at least, to stand out of the crowd of mediocrity. Just check out the details below!

First, I must admit that one of the most aspects in an adventure game – the story – is not very clear or detailed at the moment. We do know that in Audere Semper players will take the role of Elisa, a young journalist who finds a mysterious coded message and decides to decipher it. This marks the beginning of her adventure, one of dark secrets and esoteric movements – whatever that means in actual terms of gameplay.
However, it was the feature list of this upcoming title that got me all excited: Audere Semper will certainly not lack innovations. For example, the game will introduce the use of "Interactive ideas" – personal notes added by the main character in her diary, which can be used as inventory objects to solve riddles or talk with other NPC. If you add to that multiple ways of solving your quests or progressing through the game, you have a very interesting adventure game!
Except for that, Audere Semper will bring us the so-called "double cut-scene technique" which combines full motion video with pre-rendered cutscenes, which according to the developers, will offer players a complete experience. Of course, classic features like tons of locations, lifelike visuals and a dark, thrilling story will be present in this upcoming title so make sure you check back for more details on the game!