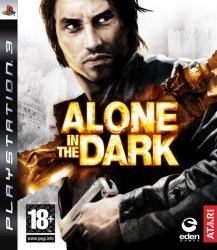 We all know that a solid developer creates a more powerful version of its game for a later release – PC users often enjoy the treat of exclusive content because their platform is the last to get the game. Now, PlayStation 3 users will get the same royal treatment from Atari with the release of Alone in the Dark: Inferno, the highly improved version of the appreciated horror title.
PS3 owners and fans of the Alone in the Dark series will be gifted with the following:

– Full 360 degree camera control: allowing complete freedom of the camera and better handling of third person movement, enabling players to view the fire and mass destruction they are causing in all of its glory;
– Fine-tuned controls: quicker and smoother reactivity of the hero's movements in third person view;
– Inventory system more accessible: more logical jacket inventory system. In addition, gameplay is paused when accessing the inventory system;
– Improved car dynamics and handling: driving has been tuned with increased suspension and reduced drifting giving overall better handling to make driving a fun walk in the park every time;
– More tips, a brand new action sequence added to the 6th Episode, Spectral Vision tuning and a big rework of the 59th Street level.
So, here it is – one of the fewer moments when Sony's console gets much more than other platforms. I'm sure fans will be delighted with Atari now.