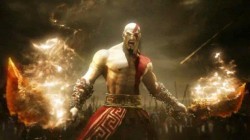 Last summer, God of War developers Ready at Dawn, showed the world some images presenting their development kits for PSP being packed and shipped back at the Sony headquarters. This meant that the company was done with developing for the PSP and, further more, that no God of War game would hit Sony's handheld anymore. At least not one developed by Ready at Dawn.
Well, recent rumors suggest that this might have been wrong: according to some "inside sources" Joystiq has, Ready at Dawn did indeed ship the SDKs to Sony, but only to receive some brand new ones in late 2008. So what would this mean? You're right: a new God of War game for the PlayStation portable!
Although such a title is clearly just a rumor at the moment and it might not exist at all, it's Ready at Dawn themselves who add some fuel to the fire: contacted on the matter, company's president and co-founder, Didier Malenfant, didn't say a loud and clear "NO!" Instead, he said: "You know that even if we were [making the game], I couldn't answer your question." Which could actually be more of a "Yes" than a "No," right?
So… could it be true? Could a new God of War game head to PSPs? Or it's an even bigger conspiracy and the actual "new" SDKs are not for the PSP, but the also rumored PSP2? That would be even bigger, right? But, of course, I'm getting a bit too carried away. So let's wait and see… and hope.