Universal Film Mogul is a hidden object game on Facebook that also mixes in some lot management features and some of the most popular films from Universal movies. In this article you will find an Universal Film Mogul guide – a walkthrough for the game with tips, tricks and cheats to help you get the most out of this title and unlock all the scenes, while also making sure that you take your studio lot to the next level.
Universal Film Mogul is free to play and the first thing for you to do is to get used with the game's interface. So let's check it out below, for the regular view of the lot:
1. Indicators of your current regular coins, premium currency and energy. You can click the + button next to each of these indicators to spend some real money to get more.
2. Your Studio Points. You need SP to unlock new hidden object scenes to play and you get more Studio Points only by purchasing and placing more decorations and items on your studio lot.
3. Your Level Indicator and Hearts Meter. You need hearts to unlock special items in the store.
4. Your mission queue. Here you will get all your new missions and you can check out unfinished quests.
5. The backlot management buttons. Clicking the "Edit" button allows you to move, rotate or sell items in your lot, while the Store button takes you to the store where you can buy new Backlot Items, Sets, Characters or Scripts.
6. Studio Objectives – apart from the regular missions in the game, you will also get Objectives from Universal Pictures. They usually want you to get a specific sum of money and as a reward you will unlock a special item.
7. From here (either tapping the Globe on your lot or the icon) you can start playing the hidden object scenes (more on that later)
8. When you have new scripts, you can start making movies here. You unlock new scripts by leveling up and for each movie you need to complete a set of steps:
Creating the movies is actually a very fun process, and we will talk about this more in detail below. As you can see above, after purchasing your script, the first thing that you have to do is to cast the actors. You can do it either by spending real coins or premium currency (and 1 energy) to get an actor or you can invite your friends to join:
As you can see, each actor adds a specific sum to your overall box office revenue. Your goal is to make this big as possible, so sometimes it's best to risk spending money for talent rather than inviting friends (since friends only bring you 310.000 in profit). Next, we have to confirm the cast: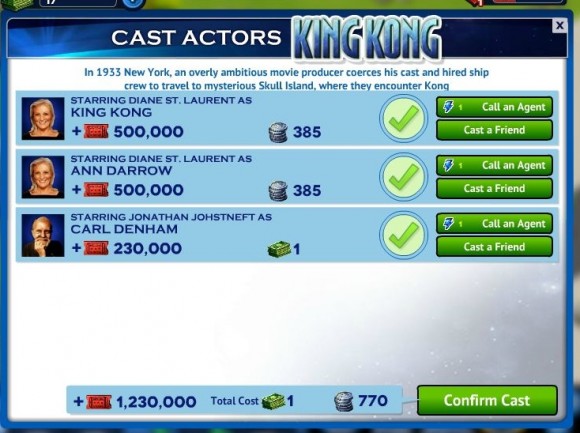 Finally, we will have to click the Soundstage and select the production budgets for the movie. The more money we spend and more time is required for the film to complete, the better the Box Office revenue, so it's always a good idea to go for the most expensive option:
Successfully completing a film earns you coins and XP points based on its performance, and it usually at least pays for the costs of having it made. Usually it gives you a nice profit, with new money available to invest in your lot:
Of course, Universal Film Mogul is not only about making movies and managing your lot. Actually, the attraction point here is the hidden object part, accessed by hitting the "Play" Button. From here, you can select your scene and unlock new ones based on your Studio Points. Once accepted, you will head over to a hidden object scene that looks similar to the one below:
You will be given a set of items that you have to find in the crowded area and you get extra bonuses for finding more in a row, so make sure that you learn where they are and only start clicking when you know where at least a few objects are. You can also use the Hint button to help you find objects, and this button refills in time to offer you a new hint.
You can and should replay each hidden object scene to get the most out of them: get Woody trophies, experience and coins as a reward.
Congratulations! You have completed the Universal Film Mogul guide and you now know how to play the game and get the most out of it!