The Private Jet Terminal has just been released in CityVille, giving us the chance to bring celebrities to our virtual city while earning top coins, goods and even population! I am here to share with you a complete guide to the CityVille Jet Terminal as well as the details about the couple new Jet Terminal missions, so read on to find out everything about this exciting new feature!
All players who are at least level 32 in CityVille and own an Airport get access to the Private Jet Terminal which will be introduced by a mission with the same name. Here is what that mission will ask you do:
– Complete the Private Jet Terminal of your Airport
– Unload 5 Private Jets
– Use 1 VIP Bonus in Your City
Rewards: 50XP, 5 Energy
And then we'll have to complete the second mission, the Earn VIP Bonuses quest:
– Master 1 VIP Charter to 1 Star
– Unload 10 Vacation Planes
– Collect 20 Cargo Manifests
Rewards: 2 Zoning Permits, 20,000 coins
Now back to the Jet Terminal itself – as the first mission says, we will have to build it first. Here are the requirements to have the new building ready for action:
After completing it, we can purchase from the Planes section of the Market 2 new Charter planes: SkyWing Jet and the Time Pigeon Jet. Here are the details: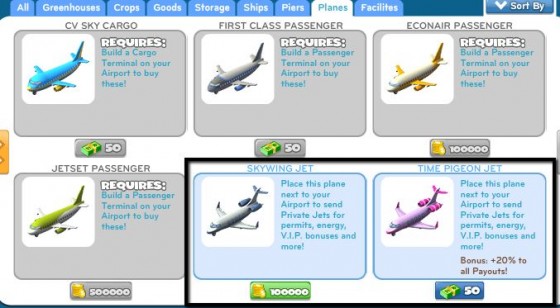 As with all planes, there are more destinations available to you and each has different rewards and chances to give you some extra bonuses. Clicking on the destinations will tell you more about them in a pop-up similar to the one you can see below about the Washington DC charter:
Every time a VIP citizen lands from your charter planes in the game, you will receive huge bonuses for a limited period of time (3 minutes)
All in all, the CityVille Jet Terminal is a really nice addition to the game and I am sure you will enjoy providing transportation for all those VIP citizens!