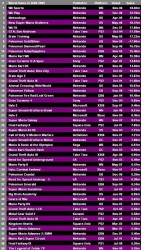 Well… it might be true that the "decade" is not yet over, but this does not mean we're not interested to see which games sold best since January 1, 2000 until today, right? Fortunately, thanks to an impressive sales chart created by vgcharts, we have the numbers. Check it out in the screenshot to the left (click to enlarge) and be amazed: the winners might not be necessary those considered the "best quality" products!
The first thing anybody will notice is that Nintendo wins the software sales battle: 30 titles released by the publishers have made it into the top 50 of the decade, with the first 5 positions of the chart being Nintendo titles (summing more than 125 million games sold). Impressive!
Even stranger is the fact that Activision, the biggest publisher in the world, only has one title in the charts – Call of Duty 4, at number 27. Electronic Arts, another huge publisher only has 2 titles in the charts (two NFS games) and just Take Two saves the third-party publishers, with 6 titles (all Grand Theft Autos)
So yes, these charts prove many things: first of all, Nintendo is doing great and is by far the most successful company in the gaming world since 2000. We also see that third party publishers and Nintendo don't make a great team (at least game sales-wise) and that, unfortunately, the gaming world is a more casual one than I would've loved: Wii Sports, Wii Play, Wii Fit and Nintendogs are some of the best selling games of the decade. Lame.