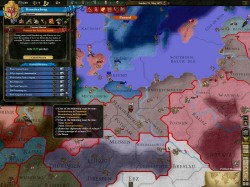 Paradox Interactive just can't decide which of their games – Europa Universalis II or Europa Universalis III – was the best and most appreciated by fans, so they decided to release some new content… for both titles. Kind of. Details below.
We'll start with For The Glory: A Europa Universalis II Game. The game appears to be a standalone title rather than an expansion – but that would be a bit awkward since there's already a third in the series released. It might also be a spin-off – the truth is we weren't told the exact details. However, we did hear that Paradox's For The Glory: A Europa Universalis II Game is partly based on the AGCEEP mod of EUII and it will allow players to control one of 180 real countries in a time span between 1419 and 1819. We'll see more in November, when this title is released.
And after that, we will also get a brand new Europa Universalis III expansion, called Heir to the Throne. Announced during this year's Gamescom convention, the new expansion is set for a December release, so it will come like a nice Christmas gift for the fans.
Again, the number of details are pretty scarce, but we do know that Europa Universalis III: Heir to the Throne will introduce a new system in which wars will have specific goals, as well as more options for the Holy Roman Empire and Papacy, dynamic pirates and other extra features.