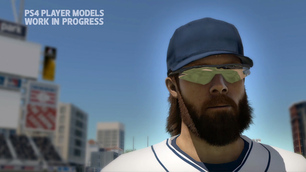 Sony has announced that the next iteration of the successful MLB: The Show series will be coming to Playstation 4. The game will be developed by Sony San Diego, per usual, and will be available for all three major Playstation platforms; PS4, PS3, and PS Vita. A release date was not announced however a teaser trailer was provided. The trailer discusses the superior technical capabilities of the PS4 compared to the PS3, which allows Sony San Diego to create more life-like player and crowd models.
MLB 14: The Show is one of the 24 PS4 exclusives that will be arriving on the next-gen console. Sony Santa Monica's Cory Barlog has also teased an ambitious new project that is currently in development for the new system. Barlog stated that he's assembling an Ocean's Eleven type crew to help him create the title.
We are still left with Naughty Dog, Sony Bend, Guerrilla Studios, Quantic Dreams, Media Molecule, SCE Japan, and CE London Studio, and their unannounced PS4 projects. Guerrilla Studios have stated that despite having Killzone: Shadow Fall as a launch title, the team is still developing another game for PS4.
Sony's new console will make it's debut on November 15 in North America, and November 29 in Europe.
(Source: IGN)