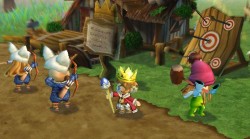 Although developed by a Japanese company (Rising Star Games), the upcoming Wii title Little King's Story will be first available in Europe, which is worth noting, simply because such things rarely happen. However, the developers have confirmed today that on April 24 this year Europeans will get a chance to test their skills in the fun little RPG.
Little King's Story main bragging rights come from the team of designers, who worked on titles like Harvest Moon, No More Heroes, Final Fantasy XII and Super Mario PRG. "With such a legendary team of designers behind it, Little King's Story promises to be one of the games of the year," says Yen Hau, product marketing assistant, Rising Star Games. "Our focus is on bringing the very best Japanese games to Europe – and we've worked incredibly hard to ensure that our gamers will be able to play this ground-breaking collaborative title ahead of its native release. Mark 24th April down in your diaries now – and cross out the following few weeks: Little King's Story will be the game to play this spring."
The upcoming RPG promises to entertain both casual and hardcore gamers (if any of the latter own a Wii), by combining gameplay elements from life-simulation, real-time strategy and adventure genres. In an RPG, yes! It sounds and it should be really interesting we'll see for ourselves if it indeed is when the game hits the store shelves.