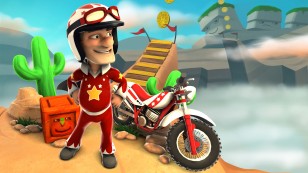 UK developer Hello Games, following their surprise announcement of the procedurally generated sci-fi multiplayer game No Man's Sky, have revealed Joe Danger Infinity. The latest entry in the beloved platforming series will follow the success of the iOS title Joe Danger Touch and will be available only on the iOS platform.
"As the name Infinity suggests, this is a Joe Danger featuring endless gameplay," explains Hello Games. "It's the biggest Joe Danger we've ever made, and we're going to be adding more and more to it."
The title will feature Joe Danger and two dozen other playable, and totally new toy characters. They'll be "pulling stunts across bedroom floors, crashing through a Christmas dinner and beyond." The game will also feature over 20 new vehicles such as a helicopter and even a tank. Hello Games has not provided a specific release date for the game but have confirmed it will be available pretty soon.
The studio seems to be on a heavy work schedule considering the fact that they're developing two brand new titles with only a workforce of four people. The studio's No Man's Sky was the highlight at the VGX for many viewers. 
(Via: IGN)