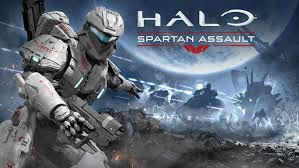 Halo: Spartan Assault has been released on the Xbox Games Store a day earlier than previously expected.
It was originally slated for release on 24th December for the Xbox One, having previously been available on Windows 8 and Windows Phone 8 devices since July, but the early release was spotted by NeoGAF

Spartan Assault is developed by 343 Industries and Vanguard Games. Spartan Assault is a top-down third person shooter set in-between the events of Halo 3 and Halo 4, where the UNSC and the Covenant have signed a ceasefire.
The single player campaign sees you play as either Edward Davis or Sarah Palmer, human soldiers stationed on the planet Draetheus V when it comes under attack from Covenant forces.
It features 30 missions to play through as well as a co-op survival game mode which sees you and your friends take on waves of Flood.
The game costs $14.99/£11.99 on Xbox One, however if you had already purchased the game on a mobile device before the 15th December, you are eligible to get the game on Xbox One for only $4.99, according to the Windows Blog.
It is also scheduled for a release on the Xbox 360 next month, where the $4.99 offer will still be in effect for those who purchase it on both phone and console. It will not, however, feature cross platform multiplayer between Microsoft's two home consoles.
Are you planning on getting stuck into the latest slice of Halo? Have you already played it on your mobile, and if so, what were your thoughts of it, and is it worth the asking price?