How would the world of Grand Theft Auto (GTA) be without bad guys? I suppose it wouldn't be at all. Bad guys are a complete plague; they're simply everywhere and in the fifth game the scenario repeats itself. With so much competition around being the best criminal isn't as easy as it should be, since breaking the law in multiple ways is a task only for masters. Besides that, you'll eventually have to deal with your own "race". Bad guys are known for using any means necessary to achieve their goals, which includes taking down other bad guys, especially when they become too influent amongst their own. Find out who are the top ten outlaws of Grand Theft Auto 5.
10. Clayton Simons
Clay is a member of the outlaw motorcycle club, The Lost MC. He has achieved a decent rank inside this organization and as a captain he has to deliver bikes to other members.
9. Lamar Davis
Lamar Davis has done a little of everything already. He used to be a drug dealer but in GTA 5 he prefers to steal expensive cars with his best friend Franklin.
8. Johnny Klebitz
Johnny is the president of The Lost MC but as the years passed, the whole group gets heavily involved in drugs and arms trading. The president is no exception as he gets addicted to meth.
7. Lester Crest
Lester is a partner in crime with the three protagonists of GTA 5. He is an IT expert and he helps building up plans to accomplish assassination missions.
6. Simeon Yetarian
Simeon owns a car dealership business in Los Santos and he hires criminals to do the dirty works for himself. He enjoys selling cars to people who can't afford them, so later on, he gets them back.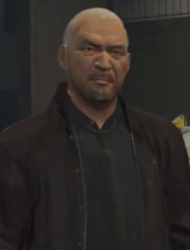 5. Wei Cheng
Wei Cheng is the leader of the criminal syndicate Los Santos Tryads. This Chinese mobster is involved in all sort of crimes but drug dealing is his specialty.
4. Martin Madrazo
Madrazo is a known drug dealer; he leads the most ruthless Mexican narcotic gang in the Los Santos. He has cheated the law by erasing the witnesses involved in his case.
3. Franklin Clinton
Franklin starts by stealing expensive cars while working for Simeon Yetarian, alter on he starts working with Michael De Santa and his criminal level ascends to large robberies, as well as assassinations.
2. Michael De Santa
Michael has a long criminal career. He started big by successfully robbing a bank but he didn't stop there. Between many other robberies he met his wife Amanda, at the time a dancerr and he opened up an illegal business. Even though he can shoot like a sniper, his specialty is robbery.
1. Trevor Philips
Trevor is the true king of criminality in GTA 5. His insanity has made basically every crime come to life. He runs his own drug and gun trade business but he loves to get involved in big robberies and gun runs. Trevor only thinks big and while other robbers think about stealing cars, he prefers to steal military planes.