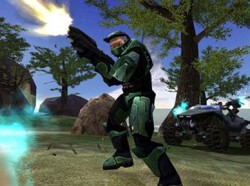 A great offer comes today, right before Christmas, for all the Halo fans out there: the final Holiday Deal of the Week on the Xbox 360 offers Halo: Combat Evolved for just 600 MS Points, starting today. The deal is available for one week only.
Only Xbox 360 Gold members can purchase the original Halo game for half its price (the game is normally priced at 1200 MS Points) but I am sure that every user would've loved to have a chance of trying the game that marked to beginning of one of the most successful Xbox 360 franchises.
The original Halo: Combat Evolved will have you battling on foot, in vehicles, inside and outdoors with Alien and Human weaponry. Your objective: to uncover Halo's horrible secrets and destroy mankind's sworn enemy, the Covenant. The shooter also supports online play f up to four players. Go here for more details.