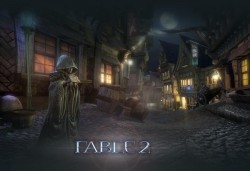 The first Fable II DLC, Knothole Island which was first announced in late November with a Christmas release set was delayed due to some "unexpected technical difficulties", an update to Microsoft's "Download and Win" contest page reveals. Tough luck for those hoping for some extra fun this Christmas!
Following the delay of the Fable II DLC (until late January 2009), the Download and Win itself was suspended, but only temporary – which means that, after all, more people will be given a chance to take part in it. This means that you can still register for the Download and Win by downloading the free Fable II: Knothole Island registration gamerpic, or by registering via Xbox.com.
When the Knothole Island DLC will be released in late January, it will give players a new slice of Albion to explore and even save from darkness. And maybe that's the real reason why the pack was delayed in the first place – it was too dark for Christmas.