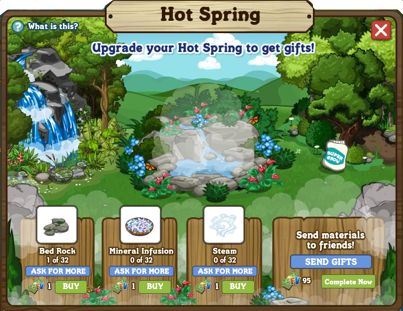 Zynga has released the Hot Spring in FarmVille and I am sure you are curious to find out how to build it and what does it do on your farm. As always, you can learn about all that right here on Unigamesity, so read on our guide to the FarmVille Hot Spring to learn everything about it!
You can only have 1 Hot Spring on each of your farms, but that should be enough for you: after placing it, you will have to ask for parts to complete it. You can see the requirements in the image in the upper left corner or check them out below:
– 32 Bed of Rocks
– 32 Mineral Infusion
– 32 Steam
You can get all these materials by asking your FarmVille neighbors for them (or purchasing them with Farm Cash) and it will probably be a while before you meet all the requirements to complete the Hot Spring on your farms.
Once you have the Hot Spring ready, you can start harvesting it every 24 hours for free fertilizer. And it also looks really nice on your farm!