The Euro Cup 2012 fever has finally arrived in CityVille (even though a bit later – but at least it's here anyway!) Therefore, we will get to build our very own EURO Cup Stadium in CityVille and I am here to share with you all the details about it – how to build the stadium and what to do once you have it!
First of all, like most of the buildings in the game, you will have to gather some construction materials before you are allowed to finish building the EURO Cup Stadium in CityVille:
– 6 Pennants
– 6 Stadium Seats
– 6 Snack Stands
– 6 Soccer Balls
– 6 Stadium Tickets
You will also get a new goal in the game, Go for the Goal: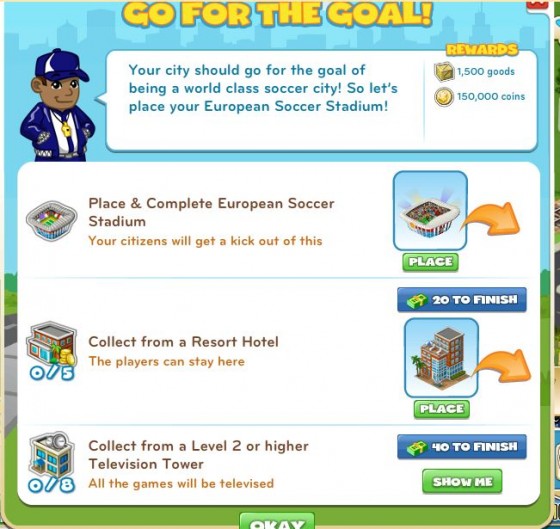 Back to the building itself, it's nice that the EURO Cup stadium can be decorated with flags of your choice (if you are ready to pay 8 City Cash to unlock them) and you can switch from one to another to prove that you are a supporter of the indicated team. Even better is the fact that the flags are not limited to European countries.
The EURO Cup Stadium is basically a community building that allows you to collect rent from it every 24 hours. And it looks really classy in your city!