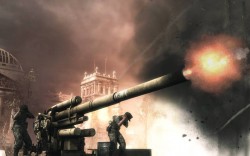 Following the success Call of Duty 4 had, it's no surprise to see so that so many people wish to test the new CoD game, subtitled World at War, even though it's developed by Treyarch and it's about the WWII all over again. Having these in mind, Activision and the game's developers have decided to kick off the multiplayer beta for PC systems and you have a chance of joining, too!

You can guarantee yourself a token by pre-ordering the game at North American GameStop shops (or online). Also, registering to the official Call of Duty website grants you a chance to receive a token (but the numbers are very limited, so you'd better hurry!).
Once you get accepted in the Call of Duty World at War multiplayer beta, you'll be allowed to play up to Level 40 as an US Marine, a German Wehrmacht, Japanese Imperial Army or Russian Red Army member. Also, the classic game modes like team death match or free for all are included, with a number of three maps to be tested. Which, I must admit, it's pretty ok.
The beta will last for a few weeks, but the show will go on starting November 11, when the full game gets released by Activision.