The month that's known as the "summer drought month" in the gaming world because of the lack of quality releases has finally passed and fortunately it wasn't such a bad month as we had in previous years. 10 of the hidden object games released in July were really great and we've selected them to be part of our monthly "best games of the month" feature.
So without any further ado, let's not waste a second and let's check out below the best hidden object games of July 2015!
Surface: Alone in the Mist
All the adults have vanished. Is it a child's dream, or nightmare? You wake on the morning of your birthday to find that things aren't at all the way you pictured for your sweet 16. Can you find out what's happened overnight to turn your world upside down? From Elephant Games comes the continuation of the popular and edgy Surface series and you can click here to check it out.
Spirit of Revenge: Elizabeth's Secret
Play as a maid of honor at Queen Elizabeth the First's court, with none other than the mischievous Francis Drake as your sidekick! But this game's not just for history buffs. Bring your sense of humor and quest for adventure on this fun trip into the Elizabethan past! A great, fun game that is available for download here.
Beyond: Light Advent
As a child, you had a wonderful imaginary friend from outer space. Nix taught you about the stars and inspired you become an astronomer. Years later, while investigating a mysterious object in the sky, you discover that your imaginary friend was real all along! He's come to warn Earth of a terrible threat – a merciless race of aliens is fast approaching, and you and Nix are the only ones who can stop them. Can you save both your friend's planet and your own in time? Click here to find out or follow the next link to read the complete game review.
Subliminal Realms: The Masterpiece
Albert had everything a painter could want, a successful business with a loving family to support him. But for the last few months he's been plagued by nightmares, by visions of a terrifying being that he has named Solitude. One stormy evening, he finds his nightmares have become reality when Solitude kidnaps his family, taking them deep into her painting. Albert yearns to free them, but doing so will come at a high price. All his memories have been corrupted and now only Solitude knows the truth. Albert must face his fears and journey onward, armed only with his paintbrushes and his love for this family. Click here to start helping him!
Shrouded Tales: Revenge of Shadows
When a garbled distress call comes in from a neighboring city, you are chosen to investigate the source of the trouble. Armed with a magical amulet that can cast a variety of spells, you head through the portal to find out what has happened in Volarden. But as you begin to investigate, you quickly learn that things may not be what they seem. Watch your back – evil is taking shape around every corner in this exciting Hidden Object Puzzle Adventure game! Head over to Big Fish Games to try it out!
Dead Reckoning: The Crescent Case
A traveling carnival becomes the scene of a strange murder, and you've been called in to handle the case. There are no witnesses, and everyone at the carnival denies knowing the victim. But are their reactions all for show? The evidence points to a deeper mystery, complete with lies, imposters, and betrayal within the close-knit carnival community. Can you flush out the truth, or will you become just another attraction in this deadly show? Click here to find out.
Shadow Wolf Mysteries: Tracks of Terror
From ERS Game Studios, creators of Haunted Legends and Redemption Cemetery, join the hunt in a brand new supernatural adventure in the latest Shadow Wolf Mysteries! For centuries, the De Lupe family has protected the city of Gévaudan using the strength granted by their werewolf curse. Now it is time for the next generation to take over. Will young Pierre choose to shoulder his father's burden or will he take a chance with a new cure to free his family from their curse forever? The ghostly wolves have the city surrounded. Who will protect the town? Find out here, in a great game that was rewarded a "Big Fish Games Editors Choice" award!
Grim Facade: Hidden Sins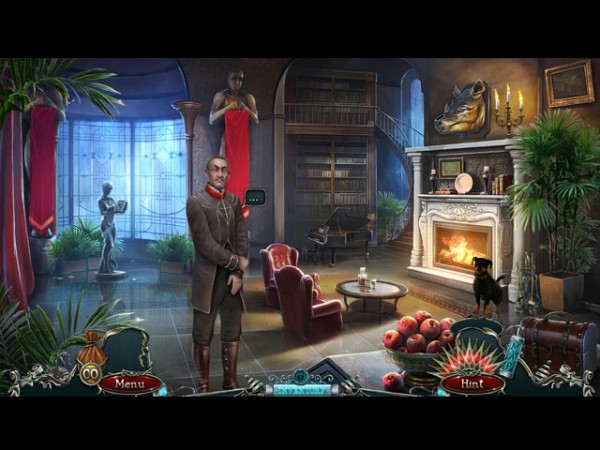 A masked vigilante calling himself the Avenger has the town of Coldstone in a death grip of fear, and you're called in by the mayor to investigate. His wife's been kidnapped, and there's a blacklist of potential targets for the Avenger's wrath. Can you stop him before he strikes again, or will you be crossing another name off the list? Click here to find out.
New York Mysteries: High Voltage
When a string of strange murders strikes New York City, you are called in to investigate. Witness reports point to otherworldly forces, since no human could have committed the crimes. You quickly realize the truth is even weirder than you could have imagined – a mysterious electrical force has been traveling through the city to claim its victims. Can you track down whomever – or whatever – is behind the murders and short circuit their deadly plans? Find out here.
Phantasmat: The Dread of Oakville
It's the end of the world… at least in Oakville. Find out what's really happening in a town where everyone seems to be missing, and a strange mystic is warning citizens of the coming apocalypse. As fans of the Phantasmat series know, it's hard to tell who's really dead and who's really alive in this world. Another Big Fish Games Editors Choice – which can be downloaded here.
So these are our top choices for the month of July 2015: I really hope you will enjoy them all!