We're a bit late with our monthly update highlighting the best casual games of the previous month, but it's better late than never and it's exactly what we're doing now: we're going to check out the best casual games of October 2013. With the Halloween just passed, many games were Halloween themed and we tried to stay away from those and instead deliver the names of some high quality games that can be played at any time. Fortunately, there were enough quality releases for us to choose 10 – and it was quite difficult to clear out so many good games.
But without further ado, here are the best casual games of October 2013:
12 Labours of Hercules
Accompany Hercules on a quest to rescue his wife, kidnapped by the evil Hades in 12 Labours of Hercules! You'll meet heroes from Ancient Greece as you vanquish beasts, repair roads and construct wonders in this stunning Time Management game! You can head over to Big Fish Games to download this quick and cute game.
Midnight Mysteries: Witches of Abraham
For the past few years, you've been writing bestselling novels based on the stories you've heard told by the ghosts who visit you at midnight. But tonight you have a special visitor, Abraham Lincoln, the 16th President of the United States! He wants you to go back in time and find the treasure of the Knights of the Golden Circle, a secret Confederate order, before Lincoln's enemies do! Follow the clues, while learning trivia about famous people and places from the American Civil War in this fascinating Hidden Object Puzzle Adventure game. Click here to check out the game.
Enigmatis: The Mists of Ravenwood
A year has passed since the events of Maple Creek. But for the past few months, our detective has been hot on the trail of the demonic preacher she fought one year ago. Yet he has managed to always stay one step ahead. She hoped to bring an end to the chase in the redwood forests of Northern California. But like so many times before, the trail went cold…
Then she encountered an abandoned camper in the middle of the highway. Enormous claw marks scored the roof and the lost family's personal belongings were scattered everywhere. All signs pointed to the scene being fresh. And all clues led into nearby Ravenwood Park… A brilliant, must play game that you can download here.
Call of the Ages
The Calendar of Ages, that kept the world running, has been destroyed. Embark on an exciting journey across eight countries and eight epochs to collect mighty artifacts! Complete 90 unique Match 3 levels as you witness key events of world history and save the world in Call of Ages. Head over to Big Fish Games to download the game.
Web of Deceit: Deadly Sands
Track down a venomous killer in Web of Deceit: Deadly Sands! After receiving a distressing message from your uncle, you travel to the remote village of Transvaal. But when you arrive, your uncle is nowhere to be found. As you search for him, you learn that he has been traveling the world, hunting down a woman named Morgana, and that this is not the first town to encounter her deadly wrath. Soon, victims start piling up, all of them bearing the same strange bite mark, dripping with venom. But is this the work of Morgana… or something even more sinister? If you want to find out, follow this link.
The Happy Hereafter
Welcome to The Happy Hereafter, a casual sim in which you guide the newly dead as they build an afterlife for themselves and their fellow lost souls. Explore weird but wonderful landscapes, discover cleverly hidden secrets, and complete dozens of challenging missions in your quest to create a little slice of Heaven in the underworld! If it sounds fun, download the game from Big Fish Games.
Surface: The Pantheon
It should have been a tremendous achievement, but the tunnel through the Ridge of Leviathan became the site of a great disaster. What really happened that day? You were supposed to have been on the train with your husband and daughter, but you missed it. And then they disappeared from your life forever.
It's one year later, and a strange man – a scientist who thinks this is just like the Bermuda Triangle and other such vanishings – invites you to take part in his greatest experiment: To recreate the conditions of that fateful day in Surface: The Pantheon!
Legacy: Witch Island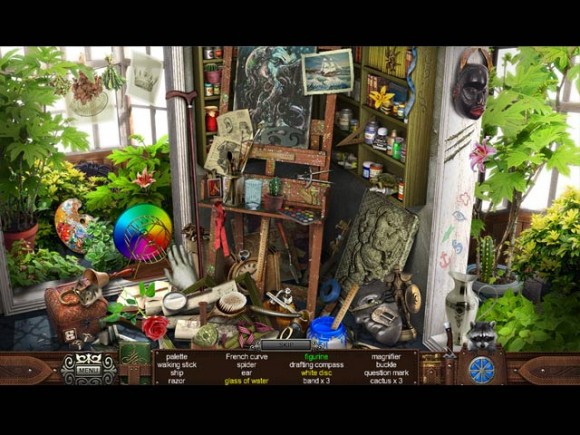 An ordinary hot air balloon ride turns extraordinary when you accidentally wind up on a mysterious island. When it is revealed that this mystical land is ruled by an evil witch, you begin to realize that your arrival is not a coincidence, and the loyal people of the island are depending on you to break the witch's spell. Explore the mysterious forest, rocky mountains, dark caves and high altitude lakes as you make your way through the picturesque sceneries of the land towards the witch's castle. Can you destroy the witch's curse and reveal the secrets of the ancient prophecy? Click here to find out.
The Torment of Mont Triste
Stop the terrifying Lord of Nightmares in The Torment of Mont Triste! After a scientific experiment goes horribly wrong, a shadowy figure begins appearing throughout the town of Mont Triste, bringing the citizens' most terrifying visions to life as they sleep. They call him the Lord of Nightmares. Local authorities are exhausted and helpless against this otherworldly threat. They have enlisted you to come to the picturesque mountain town to solve the bizarre case. You must track down the villain and stop him before the entire world becomes gripped in a terrifying nightmare. After all, everyone must fall asleep eventually… can you help the citizens of Mont Triste awaken? Find out by going here.
Flights of Fancy: Two Doves
Save your kingdom from disaster in Flights of Fancy: Two Doves! You return home from a royal party to discover that your estate has been robbed. Someone has stolen the magic dove that has been in your family for generations. To make matters worse, the king's magic dove has also been stolen, and if the thief learns how to use the power of the two birds, the consequences could be disastrous! With the king missing and the kingdom's citizens falling victim to a strange curse, it's up to you to save the kingdom. Download it from Big Fish Games.
We really hope that you can find at least a new favorite game on our list – and if you do, let us know which game you liked best!