April and its Easter celebrations are behind us! I must admit that I was surprised to see that there were no real Easter-themed releases this month, but it's OK because we still got great games in multiple genres – and I am here to share them all with you, like always in our Best Casual Games of April article.
Fans of hidden object adventures had far fewer high quality treats than they usually get, opening the door for some nice time management and puzzle games on our list. But every fan of casual games will find something worth playing here, so let's not waste a single second and let's check out below the best casual games of April 2017!
Enchanted Kingdom: A Dark Seed
A strange disease called Dark Seed has begun spreading, and it threatens to destroy order throughout the entire Tar Empire. You are immune to illness, which means you are the only person who can safely investigate this disease. But while your ability might shield you from sickness, it can't save you from the dark and violent forces that stand in your way! Click here to start your adventure now!
Mary le Chef: Cooking Passion
Working at a huge law firm was exactly what her parents had planned for her – however, it doesn't make Mary happy at all… Instead, she spends her days dreaming about becoming a chef! Will she have the courage to chase her dreams and follow her heart? She will, with your help so click here to make Mary's dream come true!
PrettySnails
Finally, its vacation time for a family of snails living in the garden. They're going to their favorite spot in the southern part of the garden, but before they can leave, Brian finds that his luggage has been stolen! Combining your favorite genres, Match 3 and Hidden Object, PrettySnails takes you on an adventure through the garden. Click here to download the game.
Hidden Expedition: The Pearl of Discord
H.E.L.P. has summoned you to a pearl farm to investigate the theft of a priceless pearl that was once owned by Marco Polo himself. Unfortunately, the acrobatic thief poses a dangerous challenge for you. Armed with new tools from your H.E.L.P. companions, follow the thief's trail across the world! Click here to play the game now.
Labyrinths of the World: The Devil's Tower
It's time to find out if your sister is a Seeker like you! Your road trip is unexpectedly interrupted when a dangerous army from another world invades your own! With a dangerous god as their leader, can you defeat the forces of evil and save the realms in time? Find out here.
Make it Big in Hollywood
Lisa, a sweet country girl, has just one ambition – to make a name of herself in glamorous Hollywood! But how will she fare in the cut-throat world of business? Help Lisa as she faces challenges and experience the joys that come with the alluring spotlight and the prestige of the red carpet! Get the game on Big Fish Games.
Phantasmat: Mournful Loch
Mysterious phantoms roam the grounds trying to protect the Logan family's secret. Can you uncover a powerful artifact and escape the grounds in time? I am sure you can, if you download the game here and start playing!
Fear For Sale: Hidden in the Darkness
Your writing session for your latest Fear For Sale magazine article is interrupted when a ghostly figure calls out to you for help! Since the opening of a new amusement attraction, people have gone missing from Drammond Island. Can you find the missing people and stop the mysterious kidnapper in time? Click here to get the game and find out!
Stranded Dreamscapes: Deadly Moonlight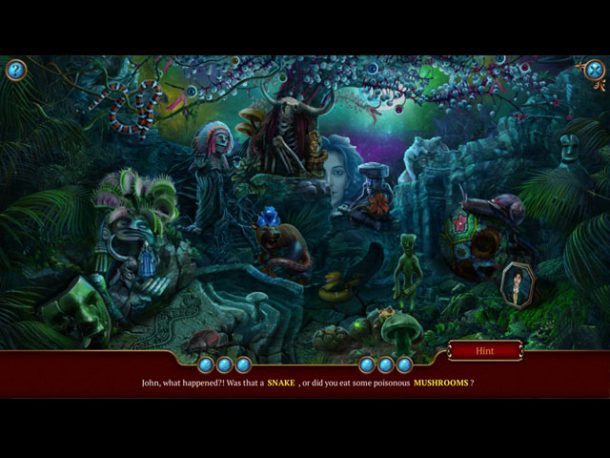 After the death of their patriarch, the Wolfgrin family suddenly went missing! The police assume it was kidnapping, so you've been called in to investigate. But what you find at the Wolfgrin estate is no mortal criminal… Click here to download the game and solve the mystery today.
Spring Mosaics
Spring Mosaics offers hours of mosaics game play, colorful nature images and relaxing music. Celebrate spring with this extensive selection of griddler puzzles and hone your skills! If you enjoy playing this type of games as much as I do, you have to get this one here.
And there you have them: a pretty dry month with just very few truly spectacular releases, but a month that doesn't bore us to tears either. Have fun playing these games and hopefully next month will treat us with even better titles!