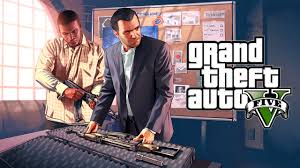 Analysts believe that Grand Theft Auto V will make approximately $1 billion in its first month on sale.
Arvind Bhatia and Brett Strauser, analysts for Sterne Agee predict that GTA V will sell around 18-20 million units over its first six months on the shelf. "We see potential for worldwide day-one sell-through of 6.5 million units [and] $400 million for GTA V," they said.
These predictions are echoed by Colin Sebastian of Robert W. Baird & Co., who said: "We expect $1 billion plus retail sales over first month." The firm also predicted that roughly 12 million units will be shipped by the end of September. Sterne Agee has gone for a more optimistic 13.5 million copies being shipped in that time frame.
THQ predicted in July that GTA V would easily outsell its predecessor GTA IV to become not only the franchises biggest commercial success but also Take-Two's biggest success, given it has three times the installed base of its predecessor. In comparison, as of 2012, GTA IV had sold 25 million units shipped since its 2008 launch.
Apparently, pre orders for the blockbuster, which was recently revealed to possibly be the most expensive game ever, reached approximately 2.5 million across all platforms. This puts it a good way to reaching these goals, and a massive way to building up Take-Two's profit margin.
With the wait for the game over, how are you going to enjoy it? What do you plan to do when you first step into GTA V's massive world? Just make sure you don't install the 'play' disk.