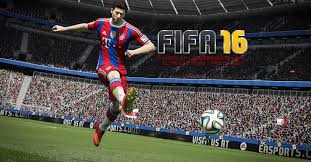 FIFA 16 has unsurprisingly launched at the top of the UK All Formats Chart this week.
Whilst EA's football game did perform as expected, the physical sales for the series are actually down 7% from last years' version. Thanks to the amount of special editions such as Deluxe/Ultimate Team editions, and the increase in sales heading to the PS4/Xbox One, revenue for the game only fell by 4%, according to Chart Track.
The PS4 gained the most sales in FIFA with 45% of sales, and the Xbox One accounted for 36%. The Xbox 360 beat the PS3 in sales though, with 13% and 6%, respectively.
Last weeks' number one, Destiny: The Taken King, drops down to second this week, pushing another new entry of last week Forza Motorsport 6.
Fourth place is taken by the fifth release in the Skylanders series, and the second of three toys to life games this year. Skylanders Superchargers debuts three places above Trap Team, which released last year. Along with the range of toys released alongside the starter pack, Skylanders generated over £1 million this week.
Metal Gear Solid V: The Phantom Pain slips down one place to fifth, whilst another new release of last week, PES 2016, takes a tumble of three places down to sixth.
Mad Max falls two places to seventh, as Grand Theft Auto V is down to eighth this week.
Call of Duty: Ghosts is back in the Top 10 this week after surging up five places to ninth. LEGO Jurassic World holds its place in 10th.
Elsewhere in the charts, the final new release this week is the Warhammer/American Football hybrid Blood Bowl II, which enters the charts in 15th.
The UK All Formats Chart (Week Beginning 26th September 2015) is as follows:
1. (N) FIFA 16
2. (1) Destiny: The Taken King
3. (2) Forza Motorsport 6
4. (N) Skylanders Superchargers
5. (4) Metal Gear Solid V: The Phantom Pain
6. (3) PES 2016
7. (5) Mad Max
8. (7) Grand Theft Auto V
9. (14) Call of Duty: Ghosts
10. (-) LEGO Jurassic World
You can view the full Top 40 here.
Next week sees LEGO Dimensions and its army of toy packs released. But with a price of approximately £80 for the starter pack, how will it fare in the charts?