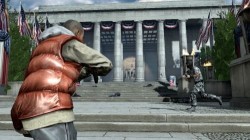 Out of nowhere, Activision appeared to announce a brand new IP going to be released by the end of the year. The game, a first person shooter, is called Secret Service and will hit Xbox 360, PS2 and PC systems. Except for the surprise announcement of the game, we have another reason to feel shocked: it's incredibly cheap for a big budget game, with the Xbox version having a RRP of $39.99, the PS2 $29.99 and the PC only $19.99!

Although there are not tons of details on Secret Service, we can see from the released screenshot that the visual aspect meets the standards and so does the plot (in a "cliché, we saw that coming" kind of way): you're a secret agent who must protect USA leaders when Washington is attacked by extremists on Inauguration Day.
"This game is a unique addition to the first person action genre, with a rich storyline set across famous locations and the need to use both lethal and non-lethal force to achieve your objectives," said Dave Oxford, Activision Publishing. "Secret Service brings a nice refreshing spin to fans of run-and-gun games."
It was not specified who exactly develops the title, but Daniel Arey (Uncharted) seems to be the level designer. We'll see more when Secret Service gets released by Activision by the end of the year. Don't you just love this kind of surprises?
[Image credits: 1UP.com]